We are proud to introduce a new release of the VideoNet PSIM security platform. Today we are taking the next step. We use neural networks, add new device support, offer complete management and advanced features.
VideoNet 9.1 release, February 2017, a step towards the world of new opportunities and innovative security approach. VideoNet become a PSIM class platform, a single management and control environment for all security systems.
With VideoNet 9.1 SP1 release, we continue to globally integrate equipment from various security systems on a single VideoNet PSIM platform.
Global integration of various security hardware on a single platform
VideoNet 9.1 PSIM delivers a single management and control software environment for all security systems, offers integration capability for various security solutions, supports centralized monitoring, fast response and complete security management for your facility.
New release includes following features:
Support for Southwest Microwave ™ INTREPID II perimeter protection system with Fault tolerance mode
Total.SCADA platform supports OPC DataAccess 2.0 complete specification for process monitoring and communication with external systems supporting this protocol.
Support for internal memory of IP-cameras, IP-servers, DVR and NVR according to ONVIF Profile G specification. Support for AAC audio codecs. Expanded list of supported IP-equipment from Bolid, Dahua, LTV, Hikvision.
New video detectors added - smoke, fire and neural network detectors - object detection, queue detection;
Centralized network service for automatic system update.
VideoNet PSIM offers a big picture of situation at the facility and provides the comprehensive set of data for proper decision-making. Gives a big picture using complex data from multiple sources: video cameras, video recorders, microphones, access controllers, intrusion detection and fire alarm devices, perimeter sensors, industrial equipment, POS-terminals and external systems - on a single information platform. VideoNet software solution offers seamless integration capabilities to achieve complex security approach, consolidation and functional expansion of all connected devices.
PERIMETER PROTECTION SYSTEM
Delivering global integration and security equipment management on a single platform, VideoNet solution offers connection to perimeter protection system. This allows to expand perimeter protection system capabilities and improve efficiency of the entire security system of the facility by tight cooperation between perimeter protection, video surveillance, access control, intrusion detection and fire alarm systems. You can control the entire security system, configure equipment, select entry/exit access rules for controlled perimeter, create instructions for security staff for every alarm event, and configure event-based actions.
The Total.PSS platform was added to VideoNet for perimeter protection device integration. The platform enables to add perimeter protection devices to the VideoNet and configure their parameters. Operator can use centralized monitoring and manage connected devices of the perimeter protection system manually or automatically. All device operations and operator actions are recorded to the system log.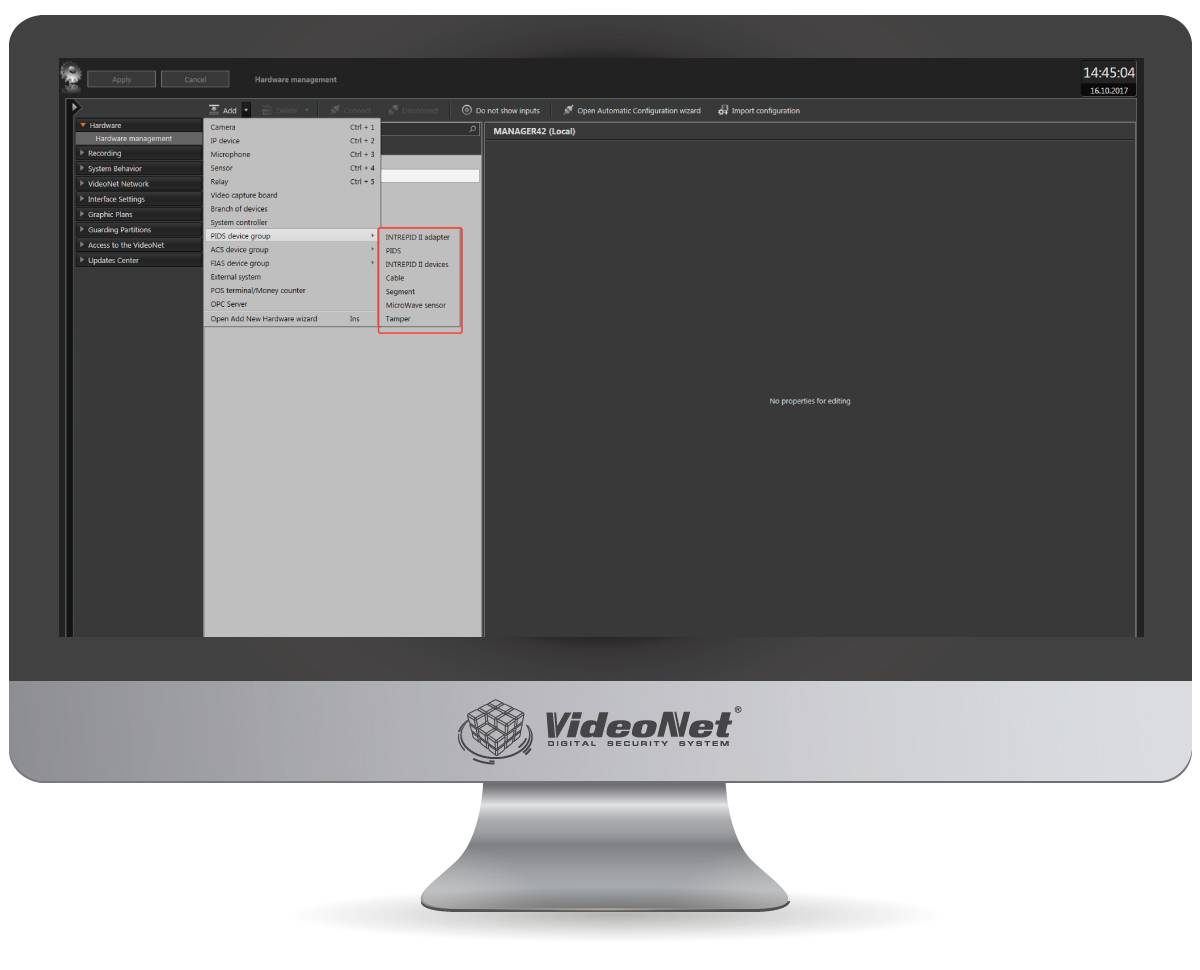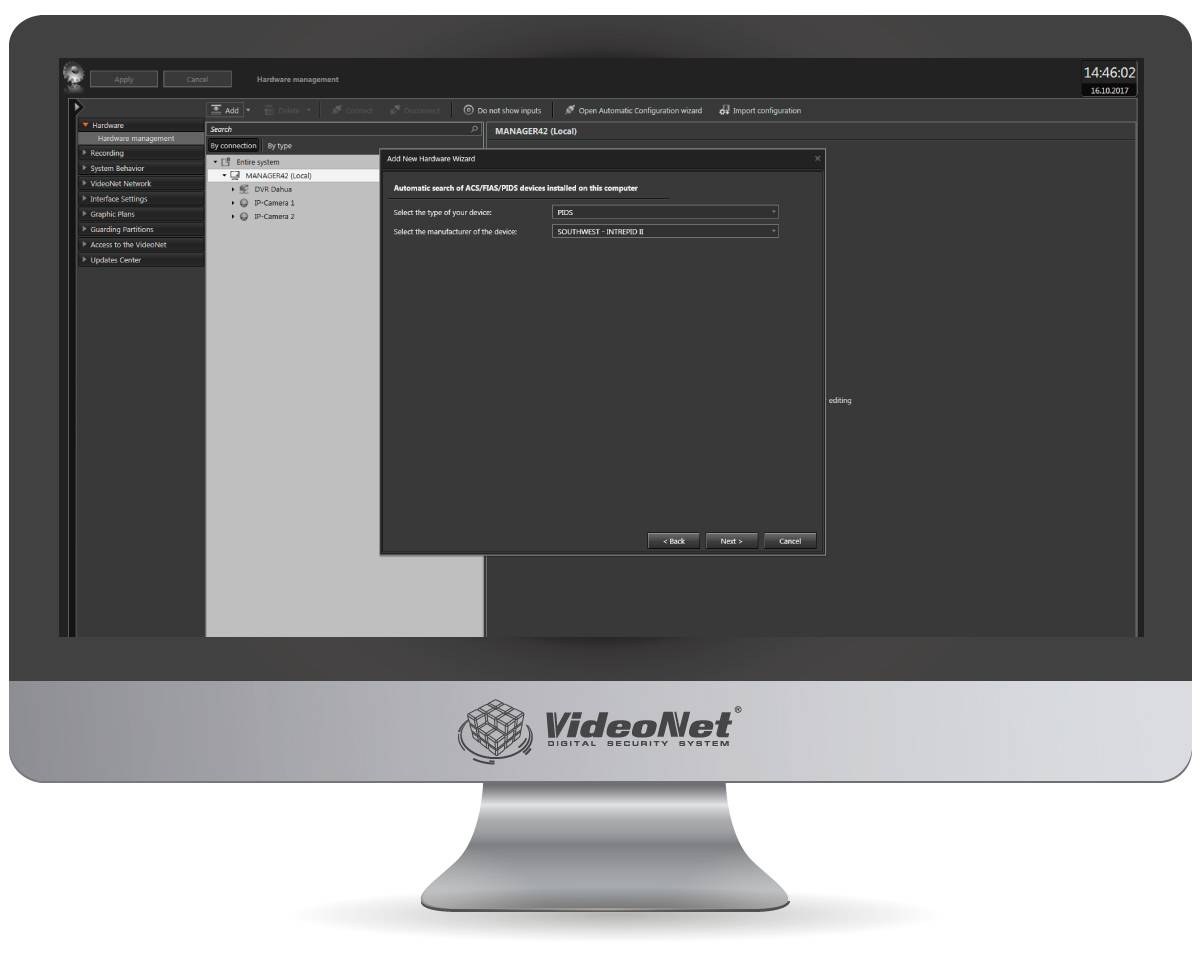 VideoNet 9.1 SP1 release supports integration of Southwest Microwave™ INTREPID II devices. System can automatically search and add INTREPID II devices to configuration. VideoNet can communicate with INTREPID II devices over several lines simultaneously and this ensures that data can be received from the devices even in case of line break or any other damage of the main communication line in any perimeter section.
For effective system management, you can locate all perimeter security devices on the graphical plan as they are actually located on your site. You can manage perimeter protection devices using graphical plan window: arm and disarm perimeter segments and perimeter sensors, receive status data from perimeter devices (segment alarm, sensor alarm, PM II, LU II module tamper alarm etc.). The graphical plans show the location where intrusion occurred with an accuracy of 1.1 meter guaranteed by INTREPID II devices. Using schedule, you can configure VideoNet system responses to intrusion events directly to the intrusion area with accuracy up to 1 meter.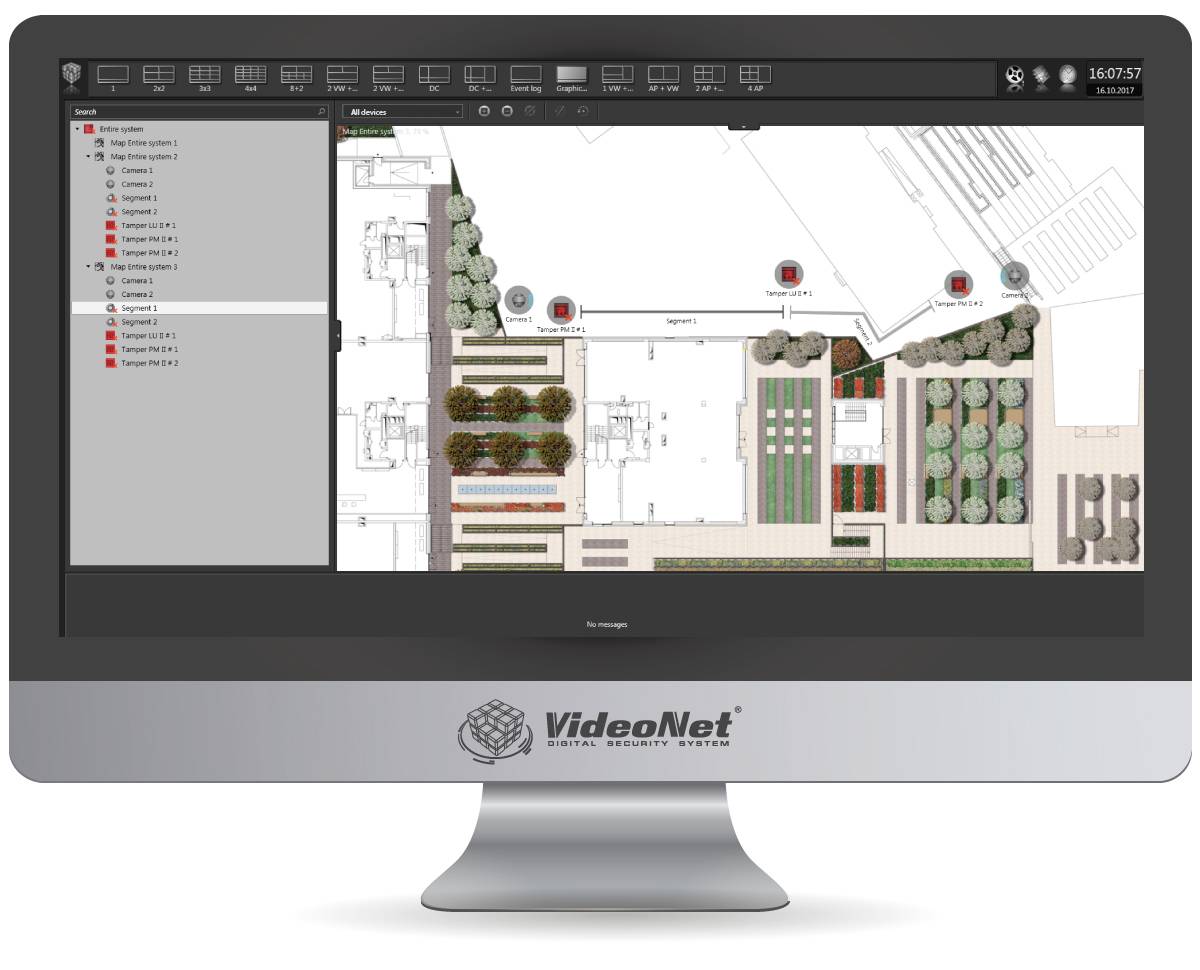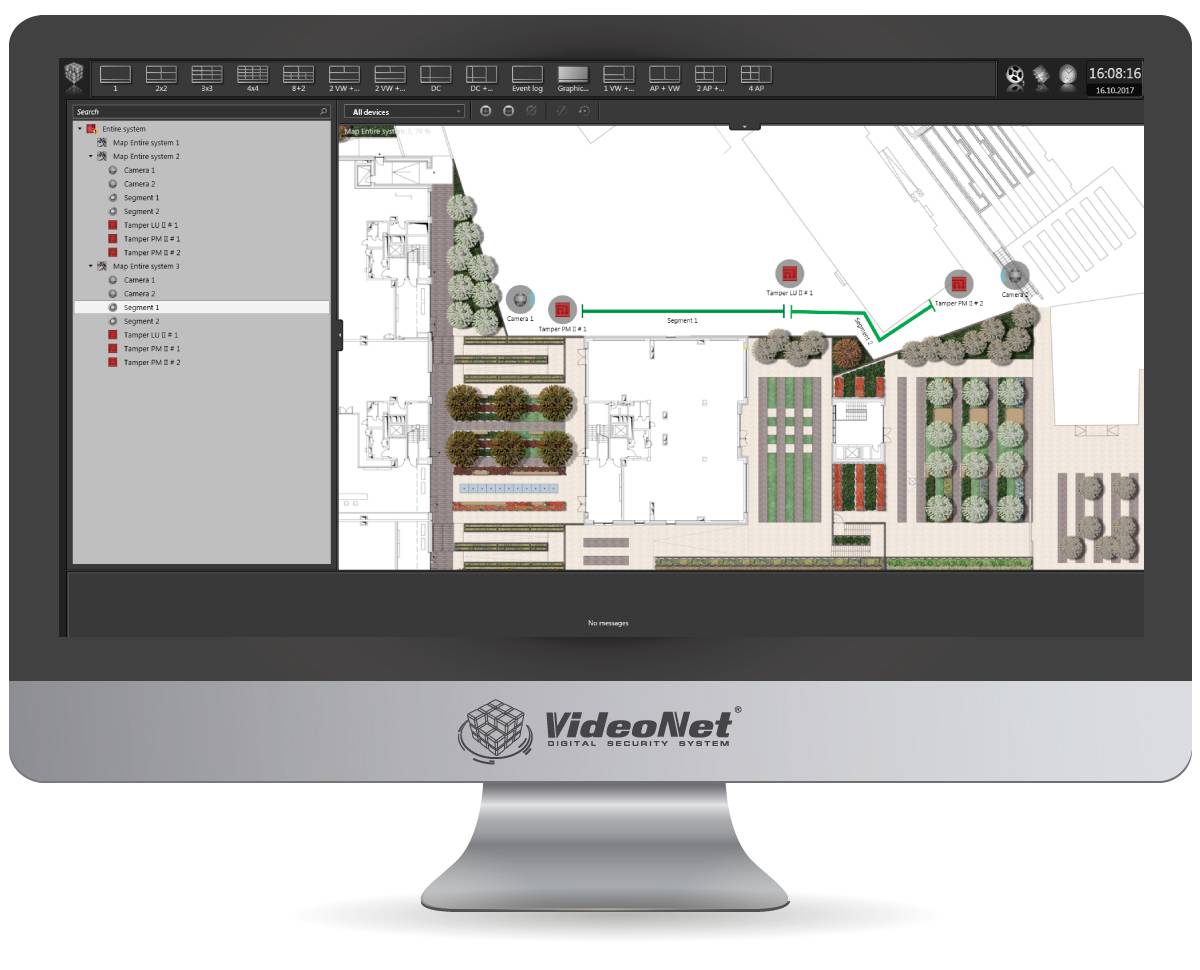 In the schedule you can configure automatic response to Intrepid™ II system events. For example, when alarm event occurs, video from respective camera appears on the monitor in full screen mode, camera turns to the alarm area, specific camera and microphone start recording, an alarm message or an audio alarm appears (or system can perform any other action).
Four new detectors were added to the video analysis of VideoNet 9.1 SP1. Intelligent video analysis capabilities offered by VideoNet system is a powerful tool for managing and monitoring situation across the facility. With comprehensive and advanced video analysis algorithms, VideoNet system can effectively detect alarm events and reduce false alarms. This ensures a higher safety and security, effective detection of any incident and minimum human factor.
A queue detector provides prompt response to the queue consisting of selected object types in the controlled area. Operating algorithm of this detector also utilizes a neural network. It provides clear identification of the following queue types: person, car, bus, motorcycle, and bicycle. This detector can be used to manage personnel or equipment operation for different service applications (retail shops, customs terminals, parking lots and etc.).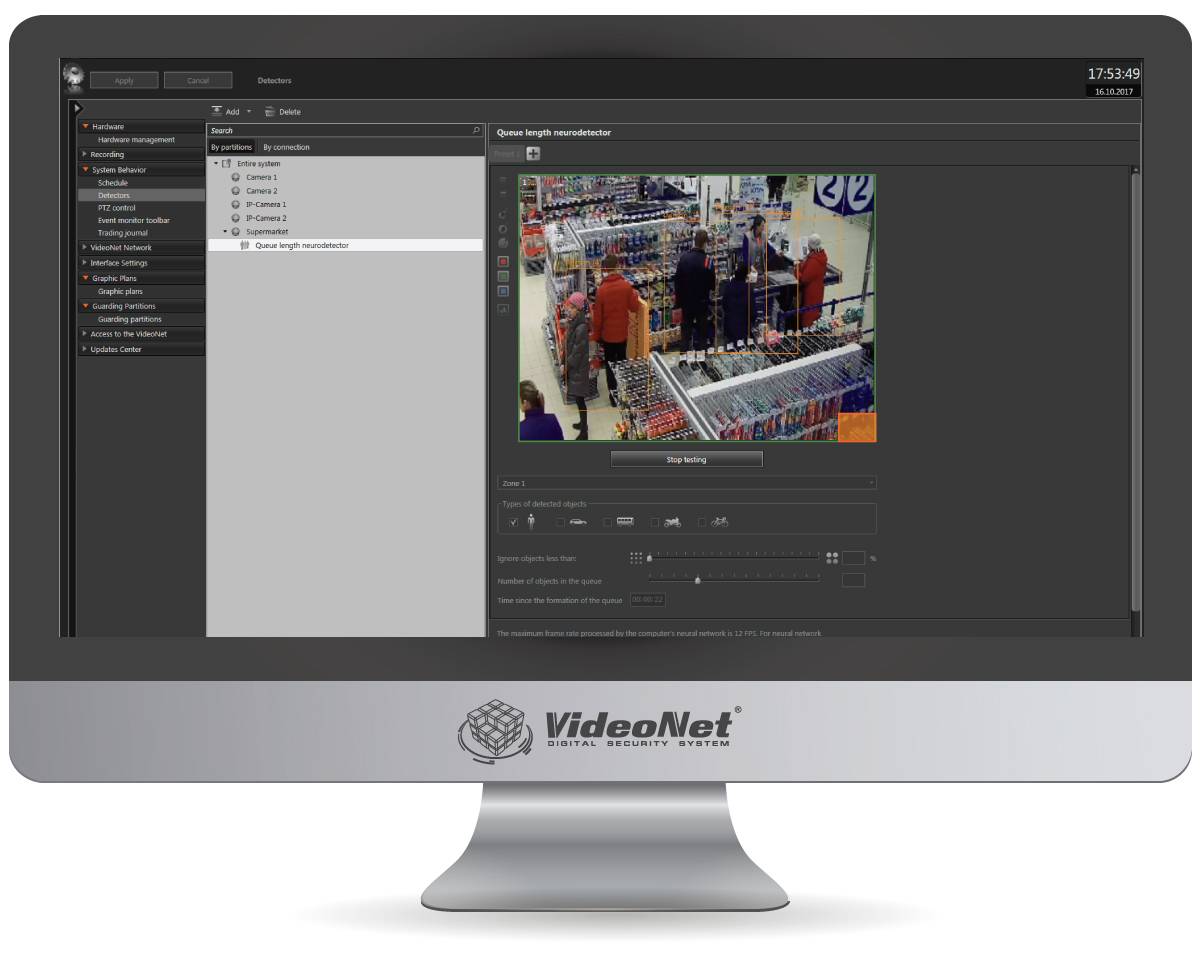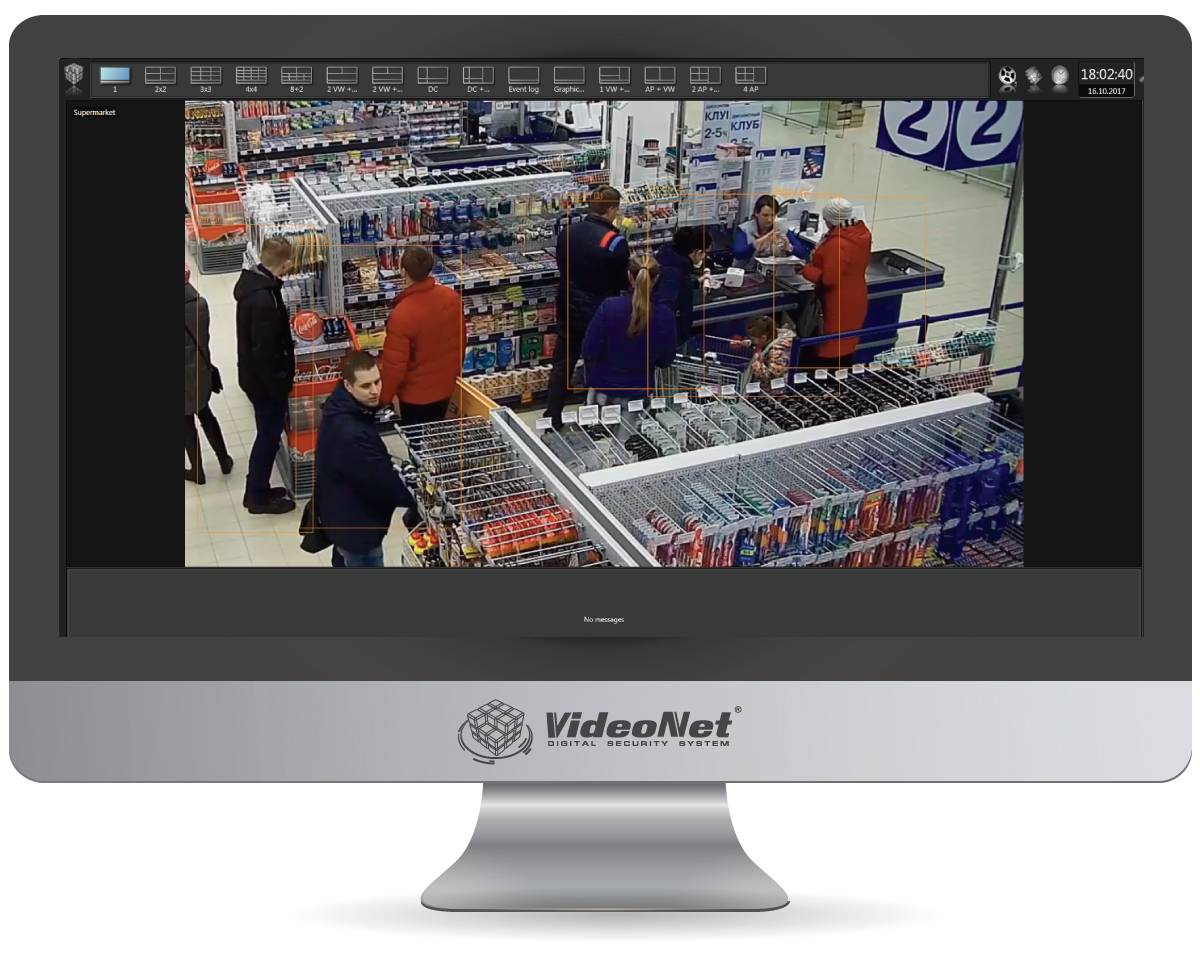 A neural network object detector offers clear identification of the following object types on image: person, car, bus, motorcycle, bicycle, dog, train, and aircraft. Detector operation algorithm includes a unique neural network ensuring high reliability of identification of such objects. The identification accuracy cannot be affected by weather conditions, day/night, illumination and etc. The unique feature of the neural network detector is that it can work with PTZ-cameras during Guard Tour. This detector can be used to prevent parking violations, detect person in a hazardous area and other applications where object type identification reliability plays an essential role. Neural network training capability allows company's engineers to create systems that can identify any user-defined objects types.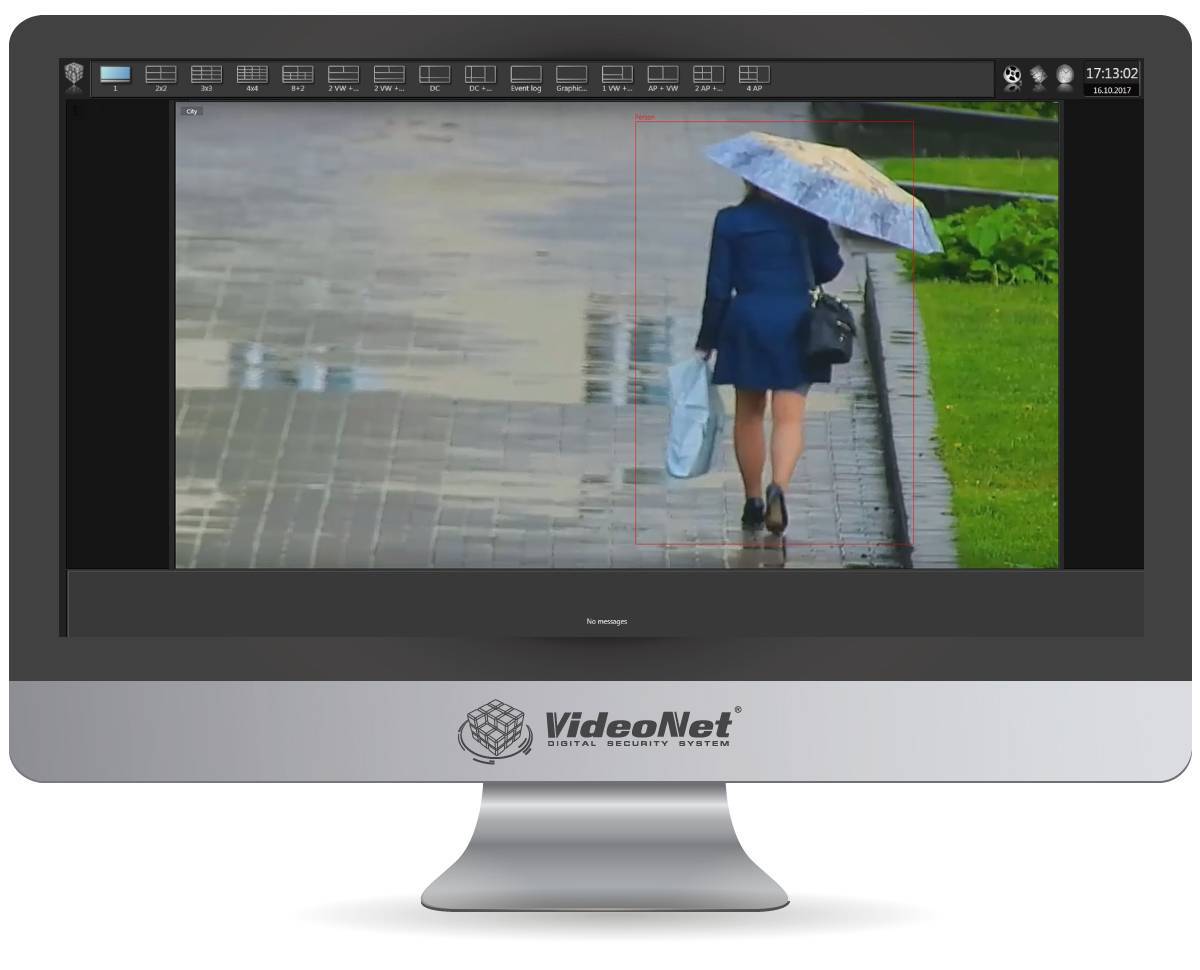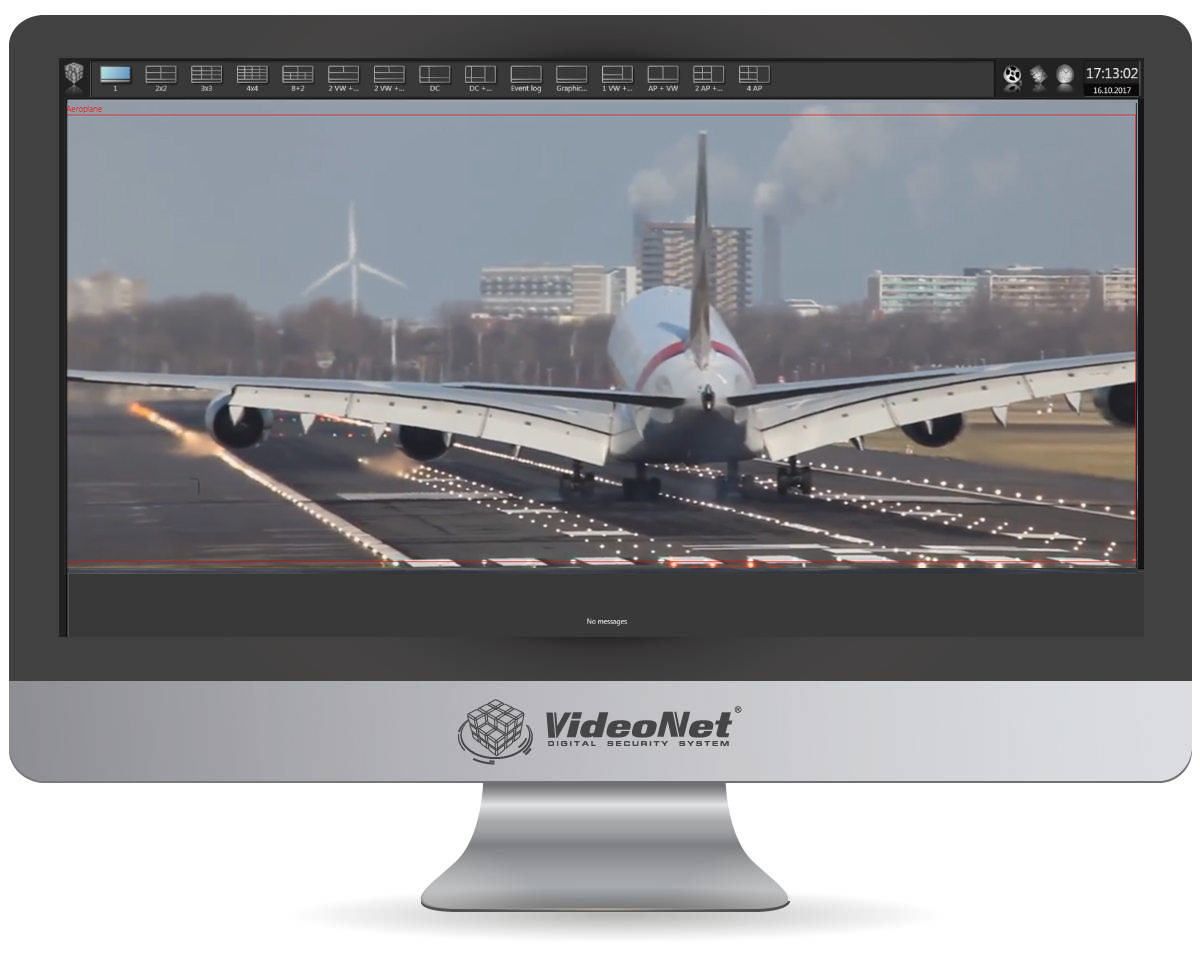 Smoke and fire detectors can determine smoke and fire in the protected facility where system is installed. Using detectors and schedules, VideoNet system can provide early warning, ensure fast notification of personnel, fast response of safety systems to alarm event, reduce time needed to reveal fire. These detectors can be effectively used at sites where fire alarm system cannot be installed. For example, parking lots, enterprises with a large territory or open areas requiring fast fire detection.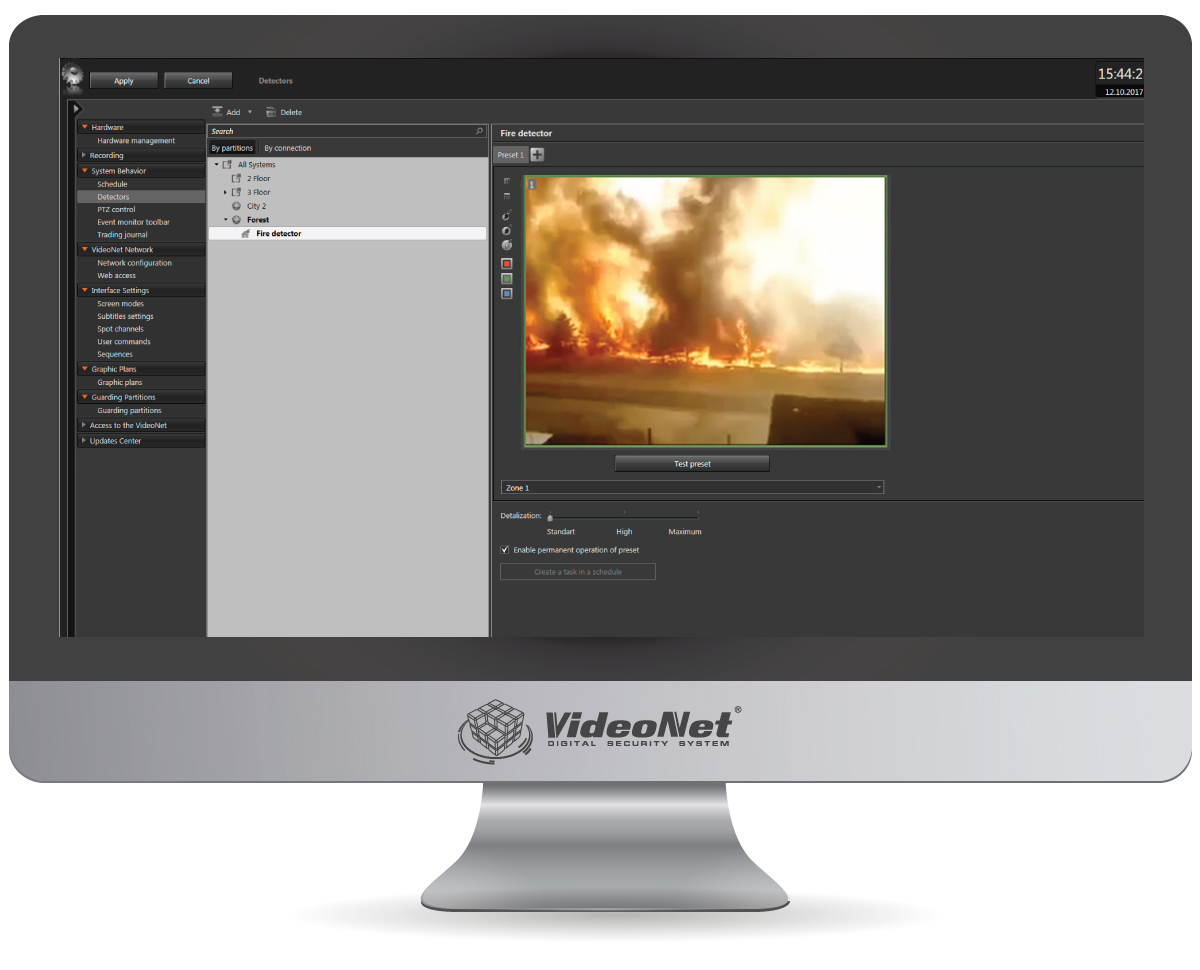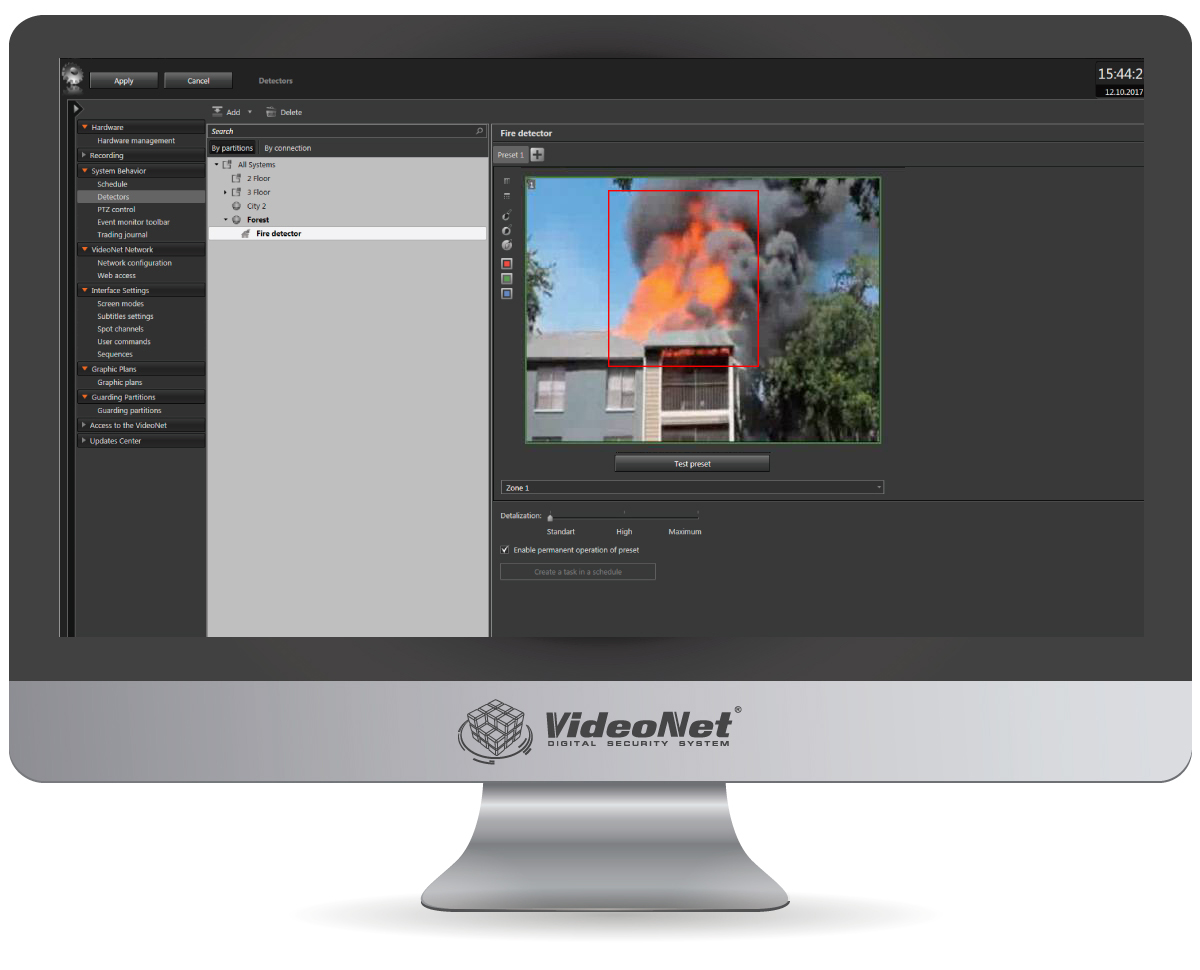 Neural networks can deliver great advantages for video surveillance applications: from retail shops to «Safe City» solutions. For security systems market transition from assumptions based on mathematical analysis of the geometry and color characteristics of a set of pixels to pattern recognition can be considered as a serious step in the situational analysis development. Analysis results clearly show people crowd, or person on the rails, or truck near the gate. Neural network technology can be effectively used for searching and analyzing data during accident investigations. Also, you can sort objects by classes to save time and obtain more clear results.
OPC DATAACCESS 2.0 SPECIFICATION SUPPORT
OPC DA standard support is an important step in the development of the VideoNet PSIM concept. Now you can integrate security system with process and engineering systems on a single enterprise-wide management platform.
In real time operator can receive data from all systems for automatic and centralized monitoring. This significantly improves quality of decision-making by the supervision departments of the enterprise. You create common information environment, improve management efficiency and reduce operational costs.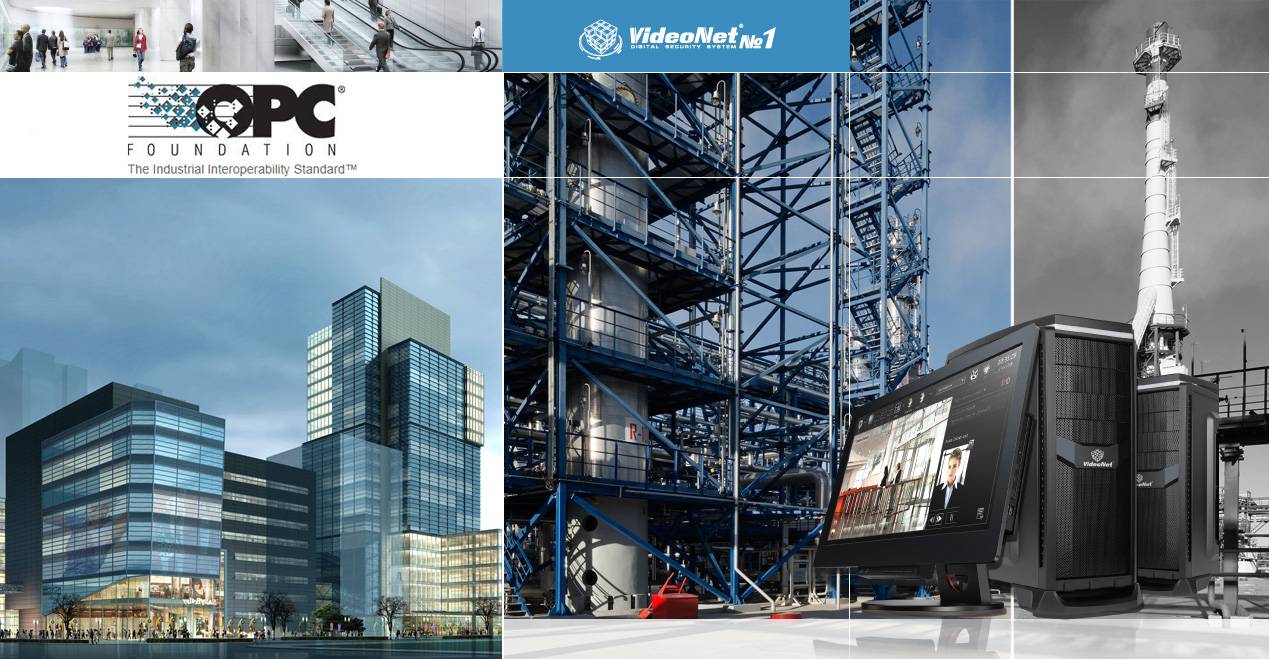 VideoNet 9.1 SP1 includes Total.SCADA platform for OPC DA 2.0 support. The OPC client allows to get the parameter values (tags) from various equipment from specific SCADA-system with OPC-server. SCADA - supervisory control and data acquisition system of the automation object. Automation objects can be devices, controllers and other industrial equipment supporting OPC DA 2.0 specification. Using schedule you can configure VideoNet response to the data received from the OPC-server and monitor processes or communications with any external systems supporting this protocol.
TOTAL.IP PLATFORM EVOLUTION
VideoNet 9.1 SP1 release can work with internal memory of IP-cameras, IP-servers, DVRs and NVRs according to ONVIF Profile G specification. Data from device internal memory can be retrieved automatically, when connection is restored after network overload or failure, or according to a schedule. In monitoring environment, user can retrieve data from the device internal memory by selecting a source and a time interval. All retrieved records are available for playback in media player. Also, platform supports AAC audio codecs. List of supported IP-equipment from Bolid, Dahua and Hikvision was expanded.
VideoNet system incorporates VideoNet Update Service to automatically receive system updates. VideoNet system updates can be installed automatically, by specified rules or by user request.
Update Service allows to flexibly configure the installation rules for a new versions of the VideoNet system according to facility requirements and schedule. User can select a computer in the VideoNet network, which will be to distribute updates to other computers in the network. To monitor the system update process, user can configure e-mail notifications on events occurred.
Before installing the next update, VideoNet 9.1 SP1 and later system releases create restore point allowing to roll back to the last installed version of the VideoNet system.
OPTIMIZATION AND ADVANCED FUNCTIONS
Optimized speed of automatic search for IP devices in the Add Device Wizard;
For user convenience when using video stream overlay, overlay duration setting is added;
For users working with VideoNet system using AXIS T8310 or Panasonic WV-CU650 and keyboard and mouse, "Follow active video window" mode is added. This mode allows user to select PTZ-camera with mouse and then control camera using control board. To use this option, user just needs to specify video window where video from this camera is displayed.
Updated media player. Now user can select playback speed before starting playback and start fast playback at the selected speed by a single click. The previously set speed is remembered and will be used for next user session. After starting playback, speed can be changed by clicking corresponding playback speed buttons.
VideoNet 9.1 delivers following benefits and added value:
Leverage your security system to higher level
Save time for your security personnel
Use your equipment more effectively
Reduce ownership cost: installation cost and service cost