Intrusion detection & fire alarm
Connect and manage Bolid intrusion detection and fire alarm devices
Intrusion detection and fire alarm devices can be connected directly to VideoNet software. All events associated with intrusion and fire alarm devices are immediately recorded to the event log, processed and securely stored in VideoNet. The operator can manage devices in "Monitoring" environment. Also, this can be done automatically according to pre-determined tasks and scenarios.
In convenient manner operator can manage intrusion & fire alarm devices directly on graphical plan of a facility. Using multi-level graphical plans facilitates in facility monitoring, improves situational awareness and enables to see complete status overview of all shown devices and easily manage them individually or in groups. Using visual indications, VideoNet alerts operator about alarm and status of devices shown on graphical plans enabling him/her to quickly reveal any incident.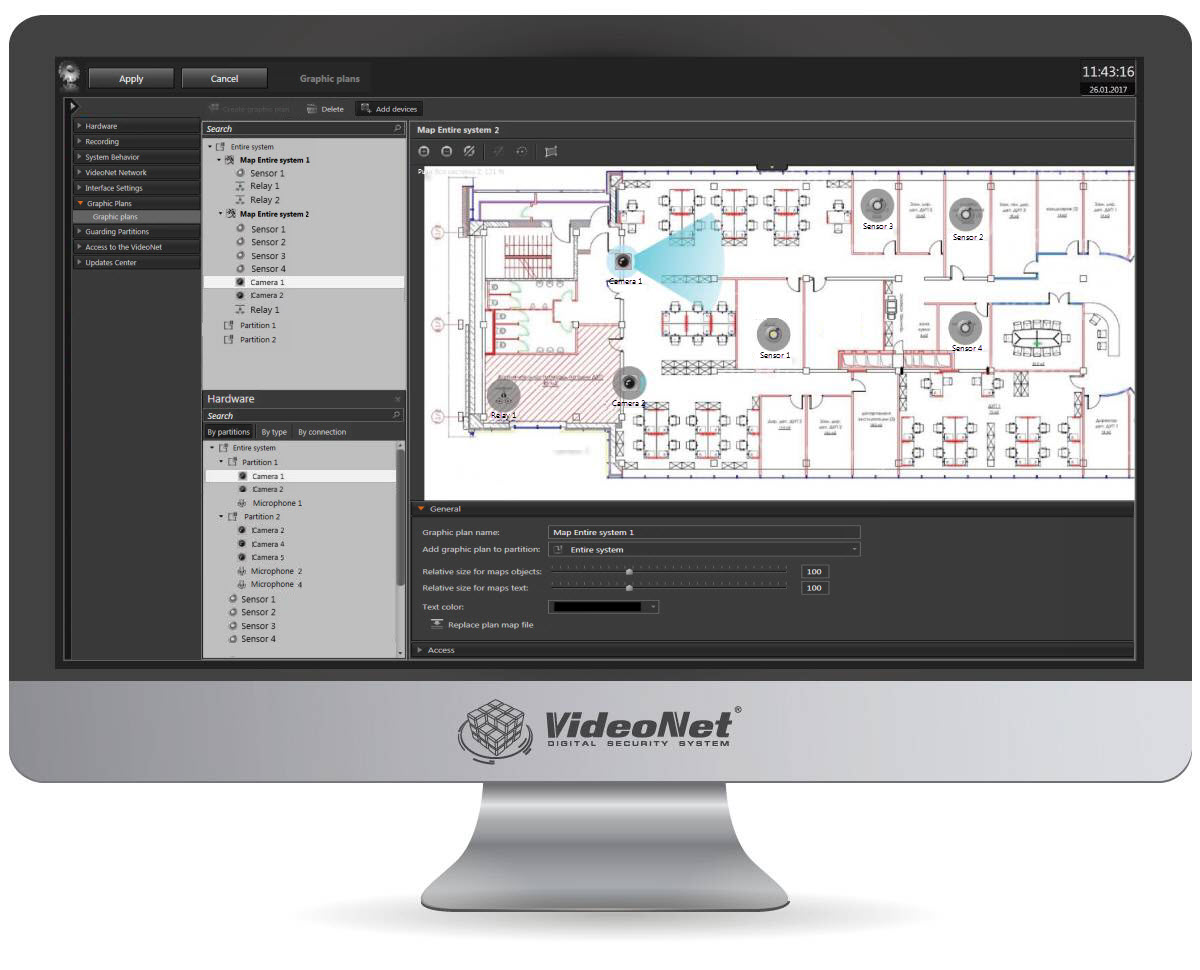 Integration of intrusion & fire alarm devices to VideoNet platform – key benefits
VideoNet manages settings and processing of standard operations (arming/disarming security zones and areas, processing alarm messages, response actions).
VideoNet expands amount of response actions through using definable commands and event-based actions relating to intrusion detection and fire alarm devices (detectors). This enables to use more possible response actions for any devices and subsystems connected to VideoNet.
VideoNet offers an advanced solution for applications not possible before. For example, when intrusion detector triggers, in addition to standard action "ACTIVATE AUDIBLE ALARM" the system can move PTZ camera to preset, change display layout or record mode, send alarm message or audio signal, etc.
VideoNet improves situational awareness. False alarms are always a problem. Now, the system recognizes as alarm event only an event confirmed by alarms from several sources and having pre-configured trigger settings and video verification by operator or guard.
VideoNet mitigates affect of human factor to security. Using system behavior model, you can automate most processes to avoid false operator actions.
Connecting intrusion & fire alarm devices to VideoNet
Intrusion detection & fire alarm devices can be connected to VideoNet system using manual or automatic device search. During automatic search system detects connected detection and fire alarm devices, identifies them and considers previous settings, if applicable.
When adding a device manually, user can select device type and model.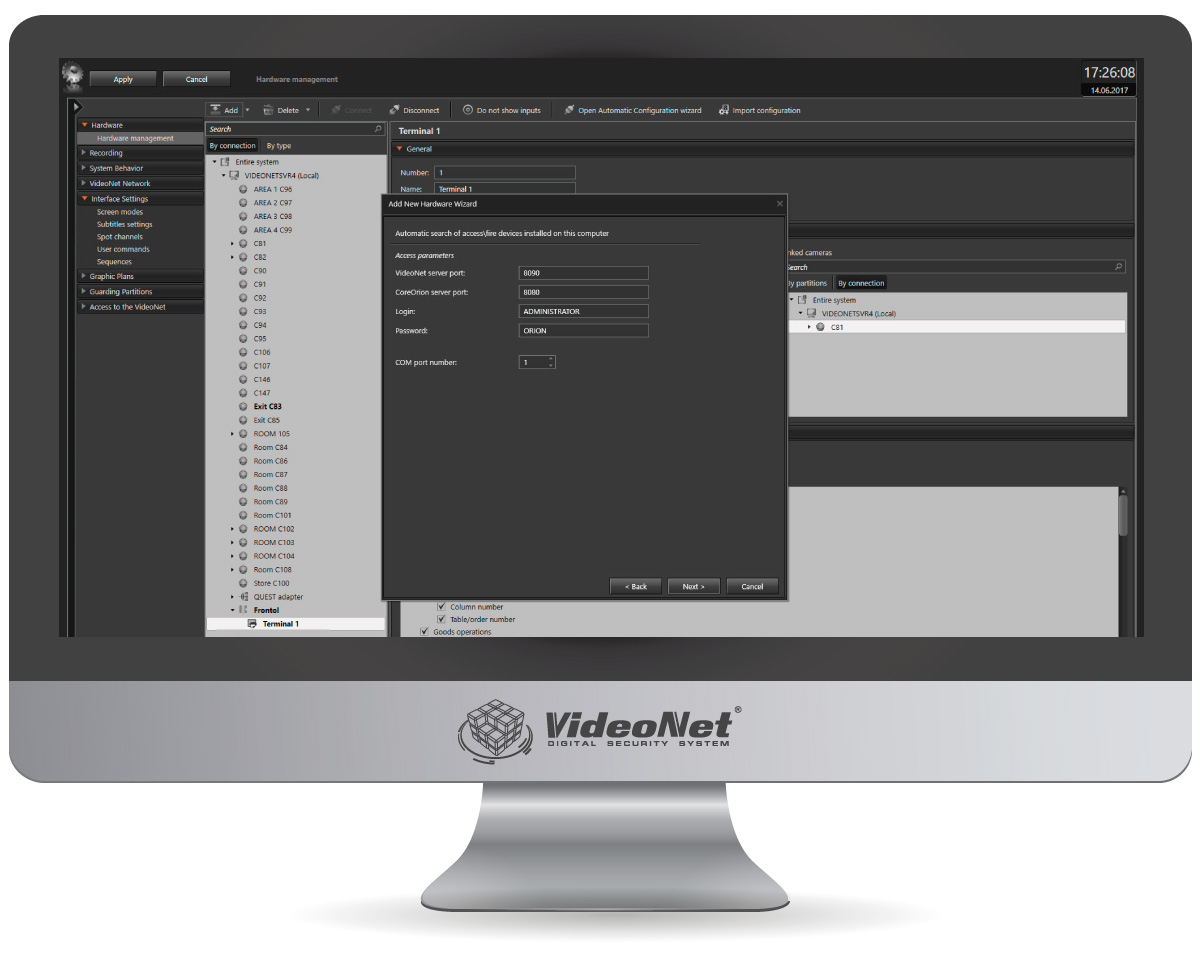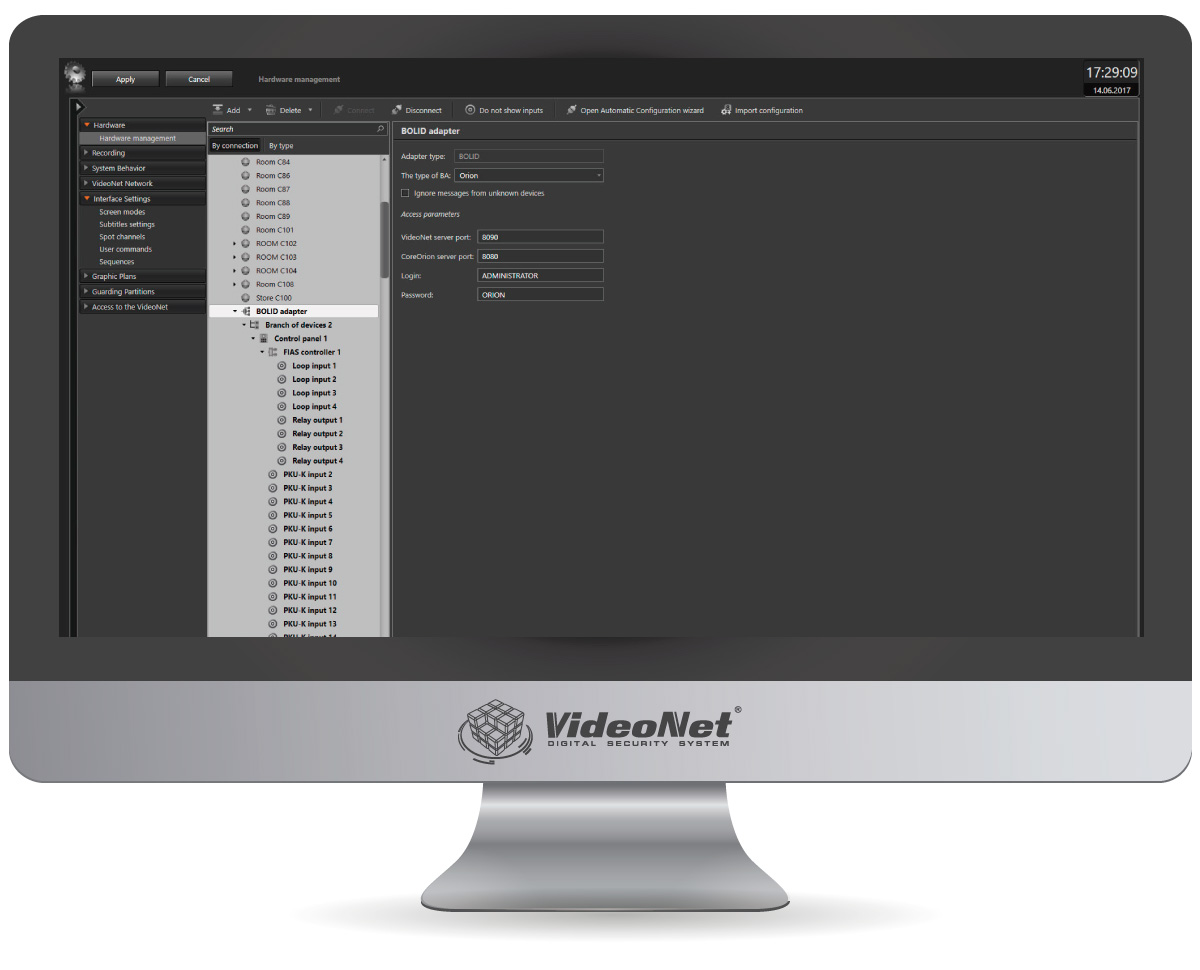 Comprehensive situational analysis and decision making
VideoNet system delivers a wide selection of analytical tools with powerful analysis capabilities. An intelligent search feature allows to find the necessary event-related information or data from different subsystems.
This data can be retrieved from video surveillance system, intrusion detection and fire alarm system, and access control system. Analysis environment offered by VideoNet system allows to create complex search scenarios, apply different filters and use multiple search options.
The system allows to quickly find and analyze any event using the specified search criteria, quickly and effectively investigate incidents, resolve conflicts and review data in a detailed manner.