Safety of administrative and sports facilities

Availability of integrated safety system within any state institution is a tool to improve an image of the city and country in general.
Designing security system for state institution implies combination of video analytics functions with interaction of various subsystems: CCTV, fire alarm, access control and perimeter security.
Main solvable objectives:
Ensuring the employees and visitors safety
Monitoring and limiting people and vehicles access
Thefts prevention and property safety
Protection against unauthorized access
Prevention terrorist acts, vandalism
Option to document the events
Centralized and remote monitoring of situation and the events
Prevention leakage of confidential information
&nbsp
Ensuring safety and security of the museums, administrative and sports
tate and administrative institutions demand special approach to security, because of special interest to intruders, and may be subject to a terrorist threat. This area is of a high concerns during the period of social, business and political events as well as major international sports events. The security system of public institutions can perform not only the function to ensure the safety of the object, but also may serve as additional motivation for employees and officials to work hard with maximum efficiency; yet it is a powerful tool to fight with corruption.
Museums, palaces, historical buildings, parks – they are cultural and historical wealth of the whole nation. Saving historic heritage, prevention incidents involving the abduction of museum exhibits and values, fight against vandalism, providing comfortable and safe environment for visitors are a task the security system may efficiently cope with.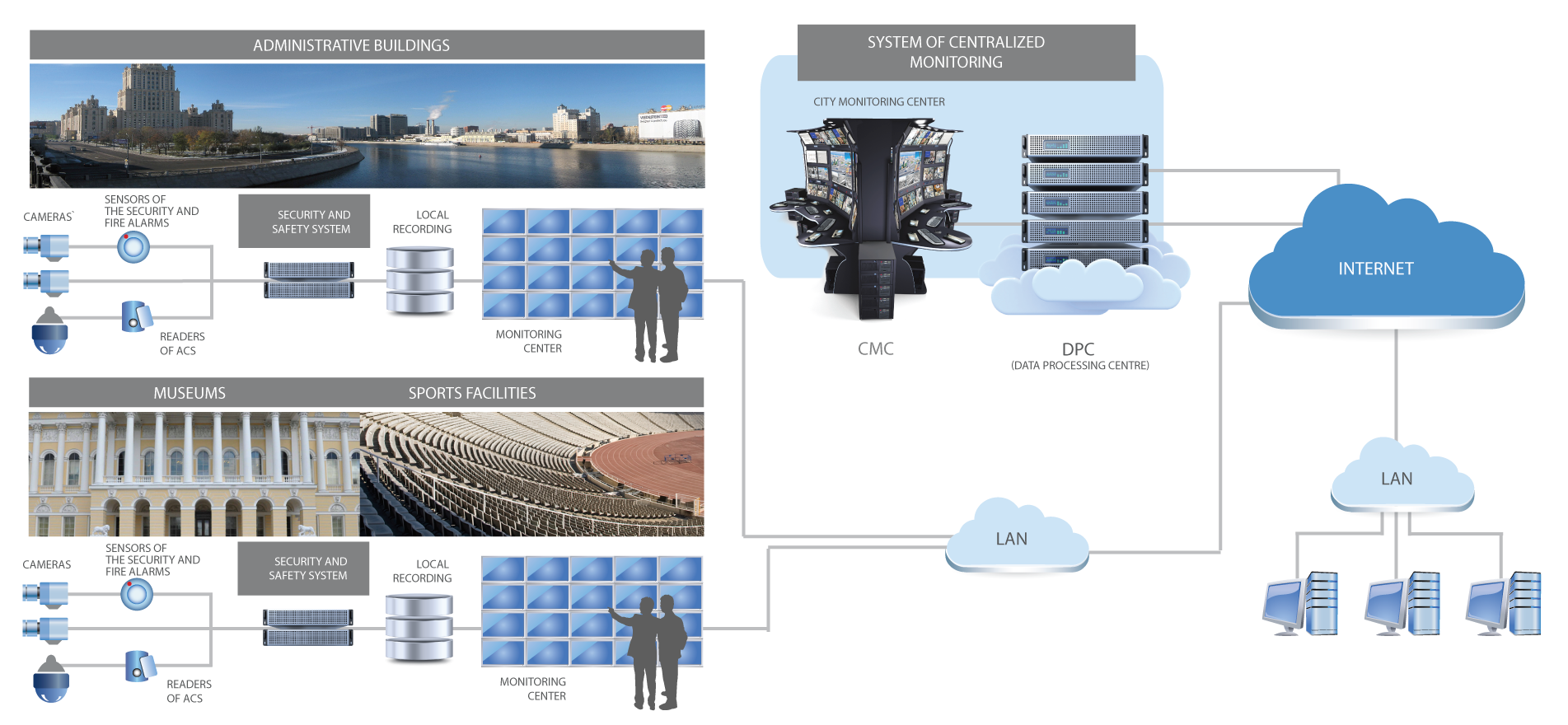 Videonet security system allows to:
Get in real-time mode images from any camera of the system: in the City Monitoring Center and monitoring centers.
Compare in real-time mode the events received from video surveillance systems, access control, fire alarm systems and perimeter security.
Centralize the flows of service and alarms events; bring them into unified data field.
To graphically display the objects and security equipment condition on a facility plan; provide ongoing monitoring of hazardous areas in terms of presence of any motions and occurrence of any inappropriate items (items left, unauthorized intrusion, etc.).
Avoid false alarms (caused by weather phenomena, technology processes and other background noises).
Get operational and statistical data on the number of people.
Produces automatic vehicle identification based on the state plates and ensure its automated compare with any available databases.
OUR PROJECTS:
FEDERAL SECURITY SERVICE OF THE RUSSIAN FEDERATION
TRAFFIC POLICE OF THE RUSSIAN FEDERATION
MINISTRY OF JUSTICE OF THE RUSSIAN FEDERATION
MOSCOW CHIEF DIRECTORATE OF INTERNAL AFFAIRS
MINISTRY OF INTERNAL AFFAIRS OF THE REPUBLIC OF UZBEKISTAN
GENERAL CONSULATE OF THE KINGDOM OF SWEDEN
CONSULATE GENERAL OF INDIA
POLIZEI SACHSEN (GERMANY)
BUNDESGRENASCHUTZ POLIZEI (GERMANY)
О OLYMPIC FACILITIES "SOCHI 2014":

-OLYMPIC VILLAGE;
- HOTEL COMPLEX;
- OBJECTS OF THE MINISTRY OF INTERNAL AFFAIRS;
- OBJECTS OF THE FEDERAL SECURITY GUARD SERVICE

DAGESTAN CUSTOMS
KRASNODAR CUSTOMS
NAKHODKA CUSTOMS
NORTH OSSETIAN CUSTOMS
STATE FEDERAL BUDGETARY CULTURAL ORGANISATION "STATE ACADEMIC MARIINSKY THEATRE"
MOSCOW THEATRE "WORKSHOP OF P.N. FOMENKO"