Voice recording system VideoNet Audio
Voice recording system VideoNet Audio
​

​
​

​
HIGH-QUALITY SOUND RECORDING
Get full information about the situation in one solution using high-quality sound recording and the capabilities of a video surveillance system.
Customer service quality control;
Conflict resolution;
Employee performance evaluation;
Evaluation of the effectiveness of marketing campaigns.

HIGH-QUALITY SOUND RECORDING
Voice recording system VideoNet Audio is designed to build a system for monitoring and recording audio and video in real time. The efficiency of the complex is ensured by external network modules for conversation recording PowerVN4-AudioIP and PowerVN8-AudioIP, an audio detector that detects events (for example, exceeding the specified sound level, loud voice, clap, hit) and notifies responsible persons for taking action. The video surveillance system can act as a confirmation system that provides additional evidence for the analysis of situations and incidents.
SOLUTION FOR STATE AND GOVERNMENT PROJECTS
Ensuring security in state institutions, banks, in crowded places and at strategically important facilities, identifying corruption and information leakage, improving customer service.
Securing transport objects. Audio recording of conversations at transport facilities is carried out in the PCM format, that is, without the use of any codecs that could affect the recording quality.
Ensuring security in the customer service area, quickly resolving conflicts, preventing fraudulent activities.
Improving staff efficiency and customer service, monitoring remote offices, conducting incident investigations, minimizing the risks of confidential information leakage.
PowerVN-AudioIP module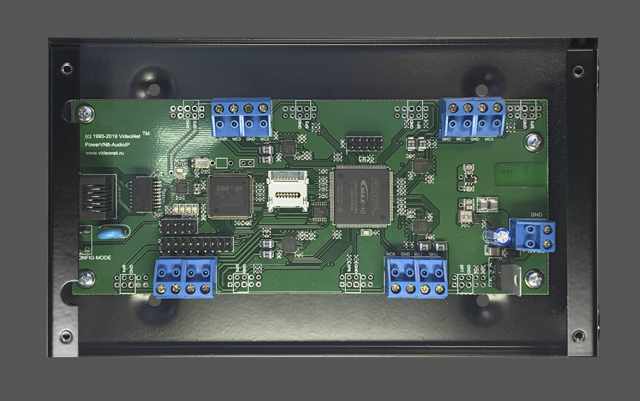 For recording conversations, the network modules PowerVN4-AudiolP and PowerVN8-AudiolP are used, to which from 4 to 8 external microphones or intercoms can be connected. The module has an Ethernet interface for connecting to a computer network.
Important advantage:
Connecting an unlimited number of PowerVN4/8-AudioIP modules located in different places and combining them into a single audio recording system, controlled from one workstation. The audio module provides high-quality recording of conversations without compression (PCM standard) and is used to solve a wide range of problems.
PowerVN4-AudiolP and PowerVN8-AudiolP specifications
Digital Recording Standard - PCM (Pulse Code Modulation), 16 bit;
Data Compression - No Compression;
Sampling frequency - 16000 Hz;
The number of connected microphones - 4 or 8 (depending on model);
Ethernet interface.
For sound recording, VideoNet PSIM offers:
Powerful audio data recording subsystem;
Additional protection of audio data by password;
Archiving audio data for long-term storage.
High quality sound and conversation recording;
Single audio and video recording system;
Remote device management from one place;
Quick access to archive.

VideoNet PSIM software is used to record audio and video evidence. Recording is carried out to the server, the storage of the audio archive is unlimited in time and depends only on the settings selected by the user. The user can listen to the sound for any selected period and at the same time view the cameras from the scene.
Sound Alarm - Video Confirmation
The joint use of sound detection, video surveillance functionality, video analytics integrated in VideoNet PSIM software, face recognition module - will help to quickly identify and prevent an incident.
Quick incident investigation
With the help of intelligent search through the archive, you can quickly analyze a huge amount of audio and video information, quickly and effectively investigate incidents, resolve conflicts and conduct a detailed study of the accumulated information.
The solution for recording conversations on VideoNet PSIM can be used to organize audio recordings at transport facilities. The system complies with all the rules of mandatory certification of technical means of ensuring transport safety, which is regulated by Russian Government Directive No. 969 of September 26, 2016 «On the approval of requirements for the functional properties of technical systems of ensuring transport safety and the Rules of mandatory certification of technica systems of ensuring transport safety».