SAFETY OF AIR TRANSPORT OBJECTS

Video surveillance, access control and perimeter security are the major factors of an airport safety system establishment.
To ensure entire passengers safety, airport service and technical areas access shall be under ongoing monitoring and video system shall be in operation in any hall of airport terminals, inspection points, parking places, etc. It is compulsory to control aprons, runaways and turn-off strips.
Main objectives of airport security
Comprehensive protection of airport infrastructure, navigation systems and aircrafts.
Monitoring the cargo operations at all stages from the receipt to loading in the aircraft.
Monitoring the passengers and the luggage check-in procedures.
Control of transportation, loading and delivery of the passengers' luggage.
Monitoring the behavior of the passengers in the aircraft cabin.
Control over the cargos transportation, travel of transport and people in the air checkpoints across the state border.
&nbsp
Airport – complicated infrastructure complex
Airport is a complicated infrastructure complex, located on a large area. It includes terminals and buildings to store and dispatch cargos and mail, as well as access railways and roads, ground transportation stations and parking lots. Security and surveillance at the airport must not only conform to the requirements of high reliability, but also to solve various concerns of airport security system, customs, border guards, police, airport, airlines. One of the most significant threats to modern society is terrorism in transport. Transport infrastructure objects are the most often aim of terrorism. According to statistics, 70% of attacks are happened through the carriage or by means of vehicles. Attacks on vehicles may lead to catastrophic consequences. Therefore, the concept of transport safety is recognized, for the first hand, as a warning of terrorism; however, this is just one of the current problems.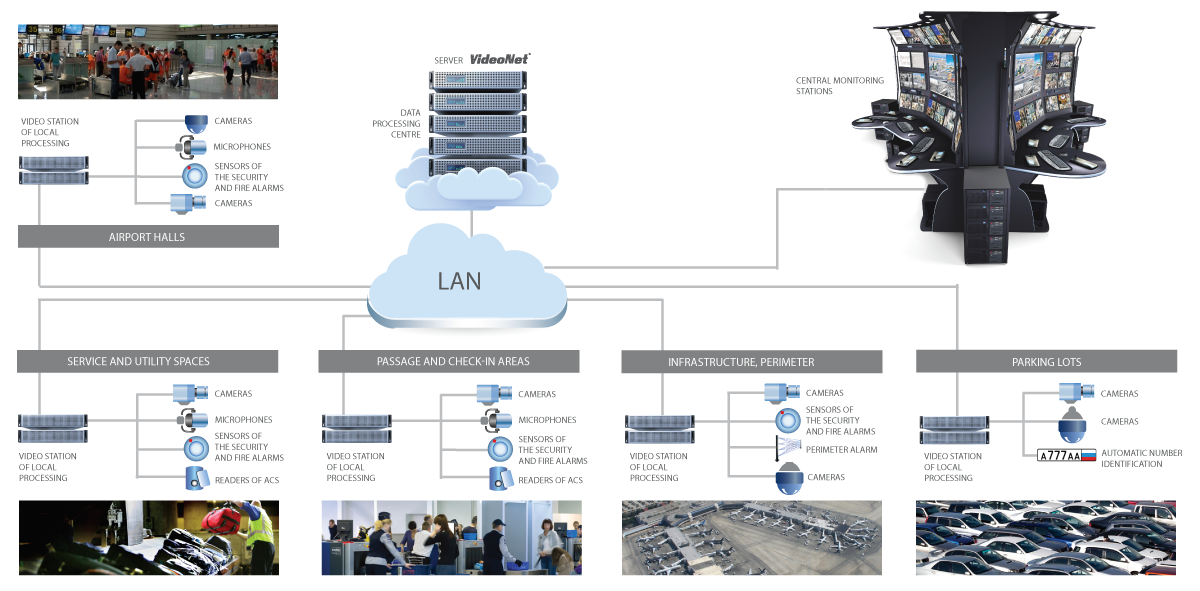 Videonet security system ensures you to:
Get real-time images from any surveillance cameras;
Compare in real-time the events of video surveillance systems, access control, fire alarm systems and perimeter security system; centralize flows of operational and alarm events, bring them into a single information field;
Display on multilevel graphic schemes the airport territory and the condition of the security equipment;
Provide ongoing monitoring of any hazardous areas in terms of presence of any motions and occurrence of any inappropriate items (items left, unauthorized intrusion, etc.);
Avoid false alarms (caused by weather phenomena, technology processes and other background noises);
Counts freight and passenger traffic.
Video surveillance, access control and perimeter security are the major factors of an airport safety system establishment.
OUR PROJECTS:
Vnukovo (Moscow)
Borispol (Kiev)
Koltsovo (Eketerinburg)
Ostafyevo (Moscow region)
Sheremetyevo terminal -cargo (Moscow)
International airport Samarkand
Begishevo airport (Republic of Tatarstan)
Leipzig airport / halle airport (Germany)