VideoNet can manage a huge number of cameras and provide an effective video surveillance across facility.
With VideoNet, you can deploy complex and large size video surveillance systems along with significant savings and more efficient use of video station's hardware resources. Also, network infrastructure load can be reduced. Using a wide selection of settings, including closing time and event-based actions during working hours, holidays and after-hours, you can more flexibly adapt security functions to your business operations as well as record and store only valuable data.
H.264, H.265 without compression
Multi video streams from a single IP camera
"On the fly" video analysis and meta data recording
Multicast broadcast
64-bit architecture
When creating video surveillance system, one of the limiting factors is the number of connected cameras per each server. When it goes to video surveillance system scaling, such limiting factor is bandwidth usage. One way to reduce bandwidth requirements and do not compromise with image quality is to use multi-stream cameras and configure multiple streams in VideoNet system.
Nowadays, more popular are IP cameras capable to deliver two or more streams. VideoNet system can receive several streams from IP cameras with individual profiles that can be used for live view, continuous recording or event-triggered recording. Using multiple stream technology supported by VideoNet system enables to optimize the server load and client load.
With multiple stream technology supported by VideoNet, you can divide original video stream to "stream for recording" and "stream for live view", and then assign them different resolution and frame rate. For example, video from cameras can be added to archive with the best quality and frame rate. For live view on security monitor, video will be with lower quality (because many small video displays on the monitor, and operator needs to see a big picture rather than highly detailed image). The same video stream can be send over network, to mobile phones and web server to reduce bandwidth usage.
When operator wants to see a certain event and needs to get a more detailed image, operator can use auto full screen mode for the desired camera with maximum image quality or double-click to increase size of the image to fit the screen. In such a manner you can significantly reduce bandwidth usage.
Multicast technology enables to effectively create a video surveillance system incorporating a large number of workstations or monitoring centers.
Multicast mode reduces bandwidth usage of the network channels and equipment as well as minimizes number of video streams. Video streams from one source (camera) for multiple recipients (operators) are not duplicated and sent only once. Allocation of video streams between recipients is performed by the last shared network switch.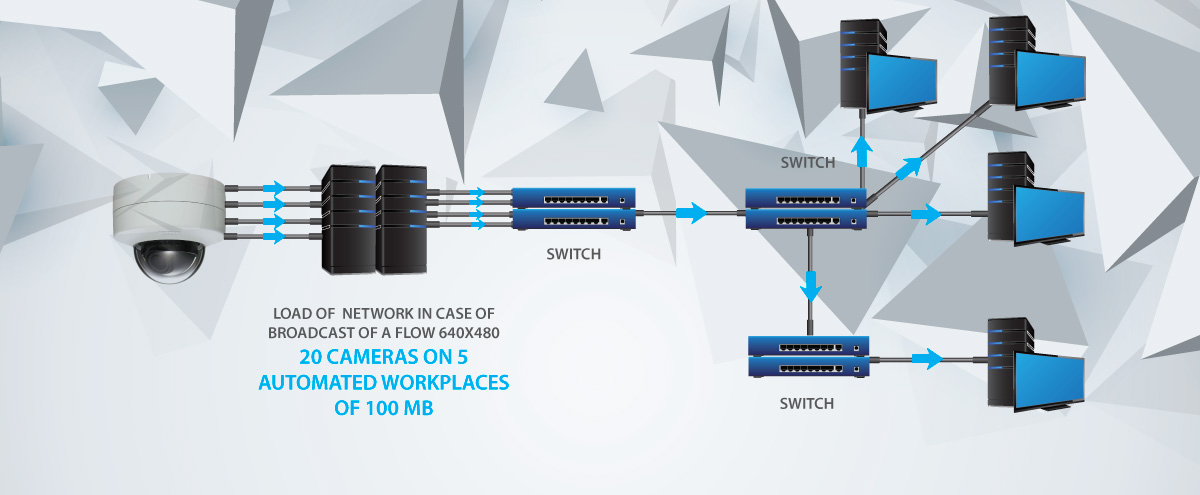 When using standard approach and Unicast mode, each workstation receives an individual video stream, and the same data is sent over the network many times, i. e. multiple of number of recipients.
Multicast mode advantages
Sending data in Multicast mode using specified sources
Optimization of network infrastructure load
Lower processing requirements for heavily loaded workstations
VideoNet 9 Multicast mode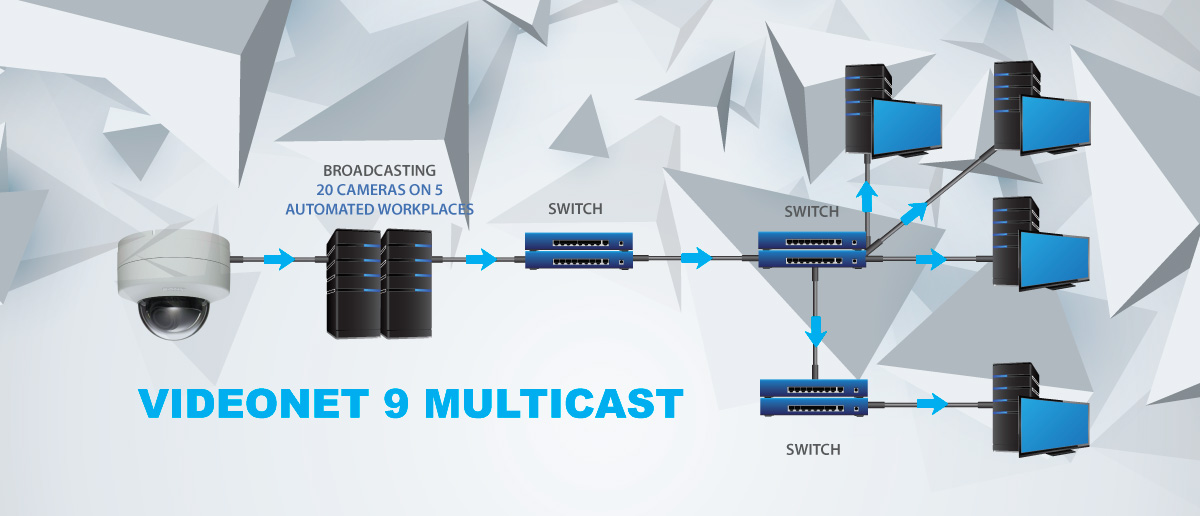 The system allows to configure video stream settings for the Multicast-channel to significantly reduce VideoNet Web Server load when connecting new users to server and to optimize data transmission.
Advantages of Multicast mode
VideoNet with 64-bit architecture offers the following benefits:
maximum usage of the equipment,
no VideoNet software-based limitations,
more cameras per server.