Connecting cameras standard AHDM
PowerVN8-HD is used to connect to the VideoNet software of standard AHDM. A video/audio capture board is a device which contains one or more digitization devices and installed in PCI Express x1/x4/x8/x16 slot of the computer.
VideoNet system version VideoNet 9 and newer systems supports the PowerVN8-AHDM video/audio capture board.
PowerVN8-AHDM – electronic module that is running the computer system VideoNet® and designed to:
receiving video signals from the digital high-definition cameras with analog signal transmission (AHDM) and the subsequent processing of video signals in the environment VideoNet®;
receiving the audio signal, its digitization and processing in the environment VideoNet®.
condition monitoring sensors (using the module MB-RIO 4/16);
control relay outputs (using the MB-RIO 4/16 module).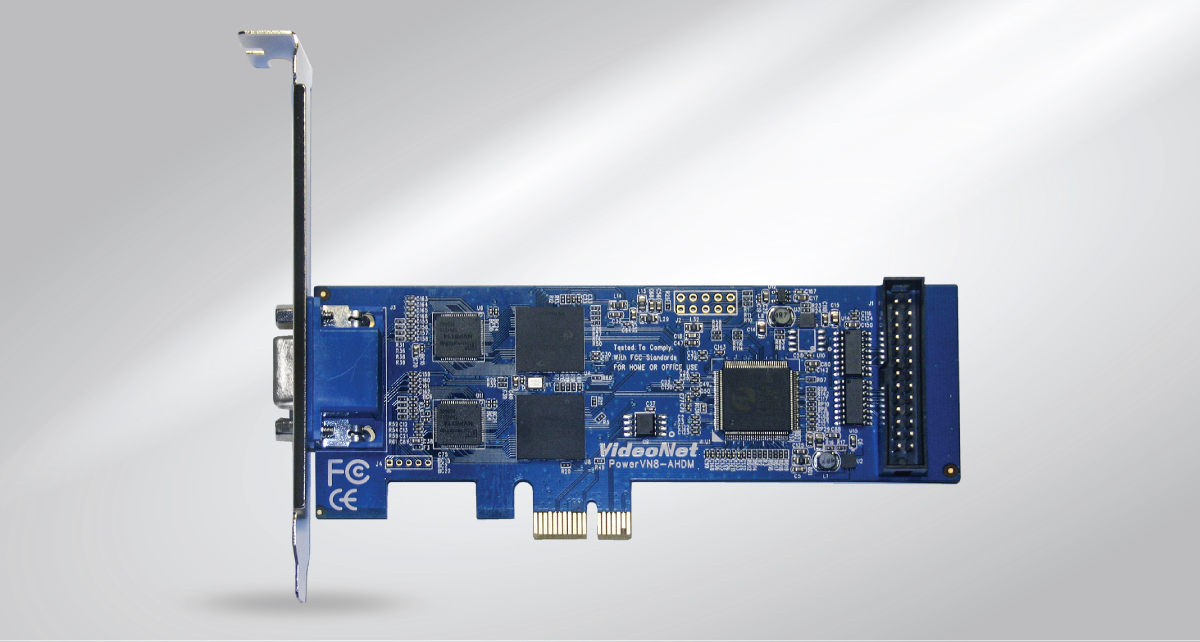 | Specifications | PowerVN8-AHDM |
| --- | --- |
| Number of connected cameras | 8 |
| Number of line audio inputs | 8 (8bit/8KHz) |
| Maximum flow rate | 200 fps |
| Standard supplied video | analog system of high-definition AHDM (1280x720) |
| Motherboard slot | PCI Express x1 |
| Work on x64 operating system | Yes |
| Overall dimensions | 120x100x25 mm |
| Module weight | 90 |
| Ambient temperature | +5... +50°C |
| Relative humidity conditions for normal working (at +20°C) no more than | 80 % |