Navigation tool for easy monitoring and control across facility
Graphical maps offer a tool for visual representation of information needed for intelligent integrated security management of the facility. With graphical maps, you can integrate a large number of different equipment from CCTV, perimeter protection system, intrusion detection and fire alarm, access control systems into a single environment to get a "big picture" of facility.
Streamline and intuitive approach to monitoring
Object visualization using graphical maps with equipment installation locations can be considered as a powerful informational tool for operators. Using such visualization tools, operator can quickly analyze data and respond faster to alarm events. Graphical maps in real-time show various events, alarms, device status, video from surveillance cameras. VideoNet system offers convenient functionality for managing the whole security system directly from the facility maps.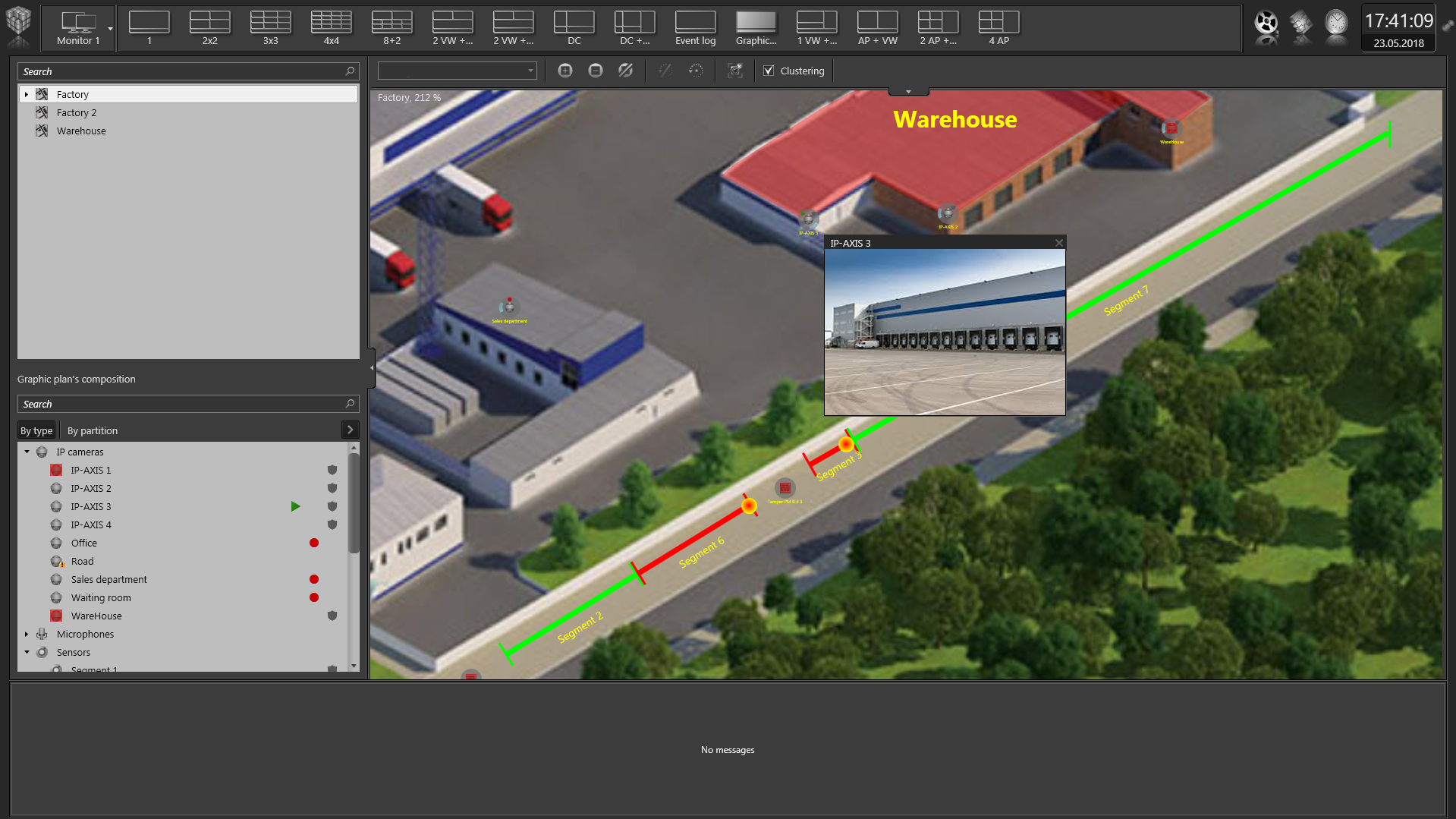 When an alarm occurs or the status of the device changes, this fact can be easily identified by icons on the graphical map. And operator can easily detect an incident. For effective incident investigation and visualization of area where alarm, fire, intrusion or tampering occurred, graphical map shows an area - segment to which the equipment is assigned. Also, using this feature you can manage group of devices in a batch manner. If alarm occurs in such segment, the whole area is highlighted.
Individual approach to your facility
VideoNet system offers possibility to tailor monitoring modes to specific application requirements, including distributed system architecture (DSA). Also, you can use default templates and create an individual monitoring location for each operator. VideoNet system enables to create a single situational center for monitoring and managing all facility security subsystems using LCD video walls. For faster response and maximum situational awareness operators can select different window layouts. Using graphical map, operator can manage the entire facility, simultaneously monitor specific access points or vehicle access points, view video from alarm source on alarm monitors or view log containing events from the entire security system.
VideoNet system allows to upload an unlimited number of graphic maps, move them, rotate or scale. You place on graphical map local or remote devices (cameras, microphones, sensors, relay output controllers, access points and etc.). Individually select scale or location for different areas of the graphical map. Also, in case of alarm you can directly access from graphic map to video from camera, jump from current level of the graphic map to another level or proceed with complex management of the devices on the graphic map.
The navigation pane allows to quickly select the desired function and respond to event, thus making operator workflow more streamline and effective. When incident occurs, operator can click camera icon to view the alarm video, lock or unlock the access point or reset alarm.
Operator takes actions according to pre-configured scenarios and individually configured user commands reduce response time.
Managing entire security system using graphical maps
With graphical maps operator can get a single-point-of-access to manage all security system devices. In real time operator can receive visual alarm notifications, quickly view live video from the alarm source or activate sound from the microphone and respond to alarm event. Graphical map functionality allows you to ensure that alarm event is not false using data from different sources.
The decision-making process whether to respond to an alarm event bases on the data of all subsystems. Operator actions can be pre-configured and various scenarios can be created.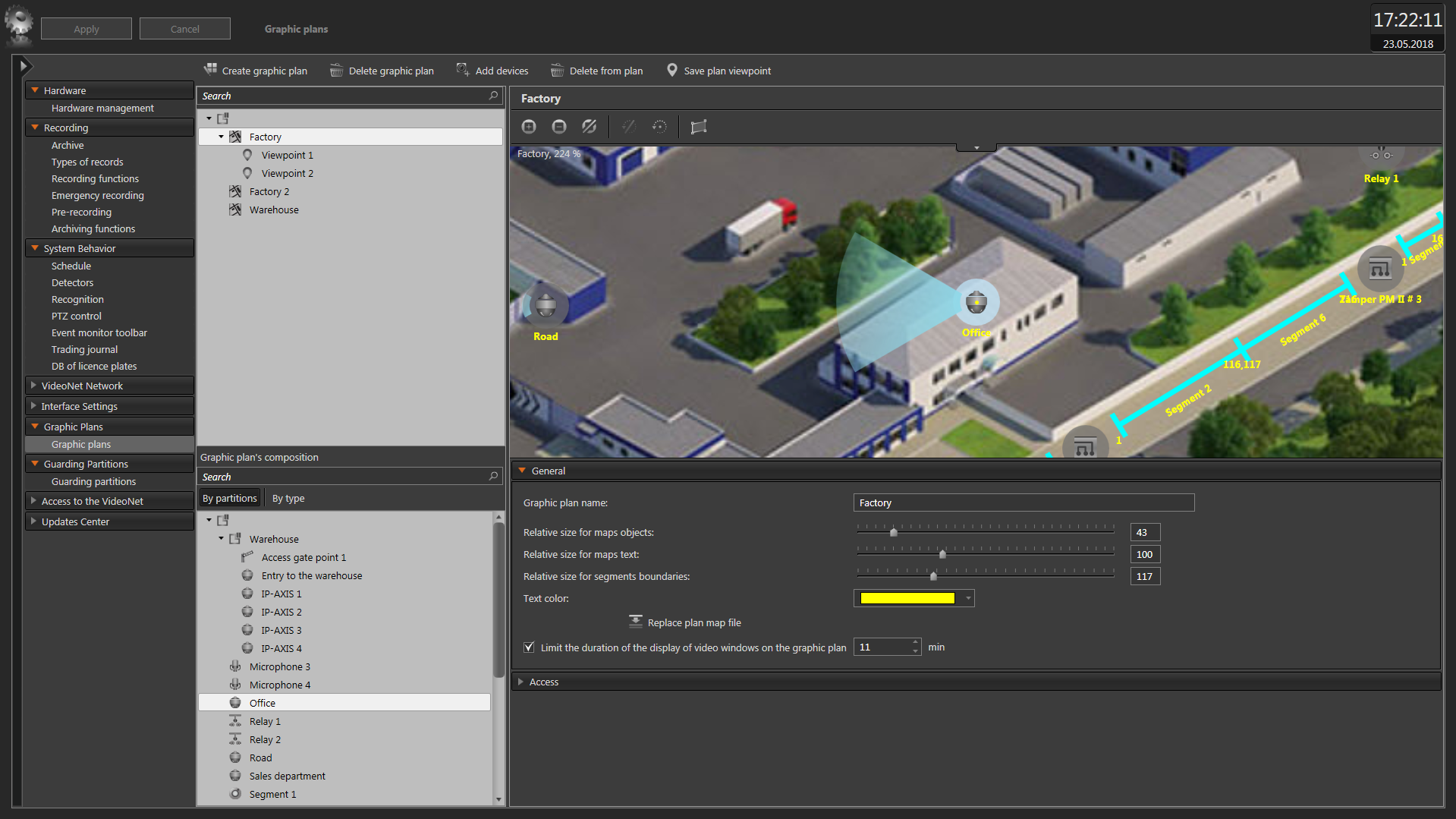 The operator can manage icons on the graphical map using a one-click. Using graphical map, operator can switch a desired camera to emergency recording mode, activate sound from microphone, arm or disarm device, energize/de-energize relay output, reset alarm, manage devices of access control and intrusion detection and fire alarm systems, view video from selected camera.
Powerful solution for DSA and complex sites
When creating monitoring and reaction centers for large or distributed objects, graphical maps can be considered an effective and indispensable tool. With different nesting levels you can see both a big picture and details: buildings, floors, rooms and etc.
You can create a set of points on the plan to automate routine actions. When any event occurs, for operator maximum situational awareness monitor mode with a graphical map activates and alarm source become focused.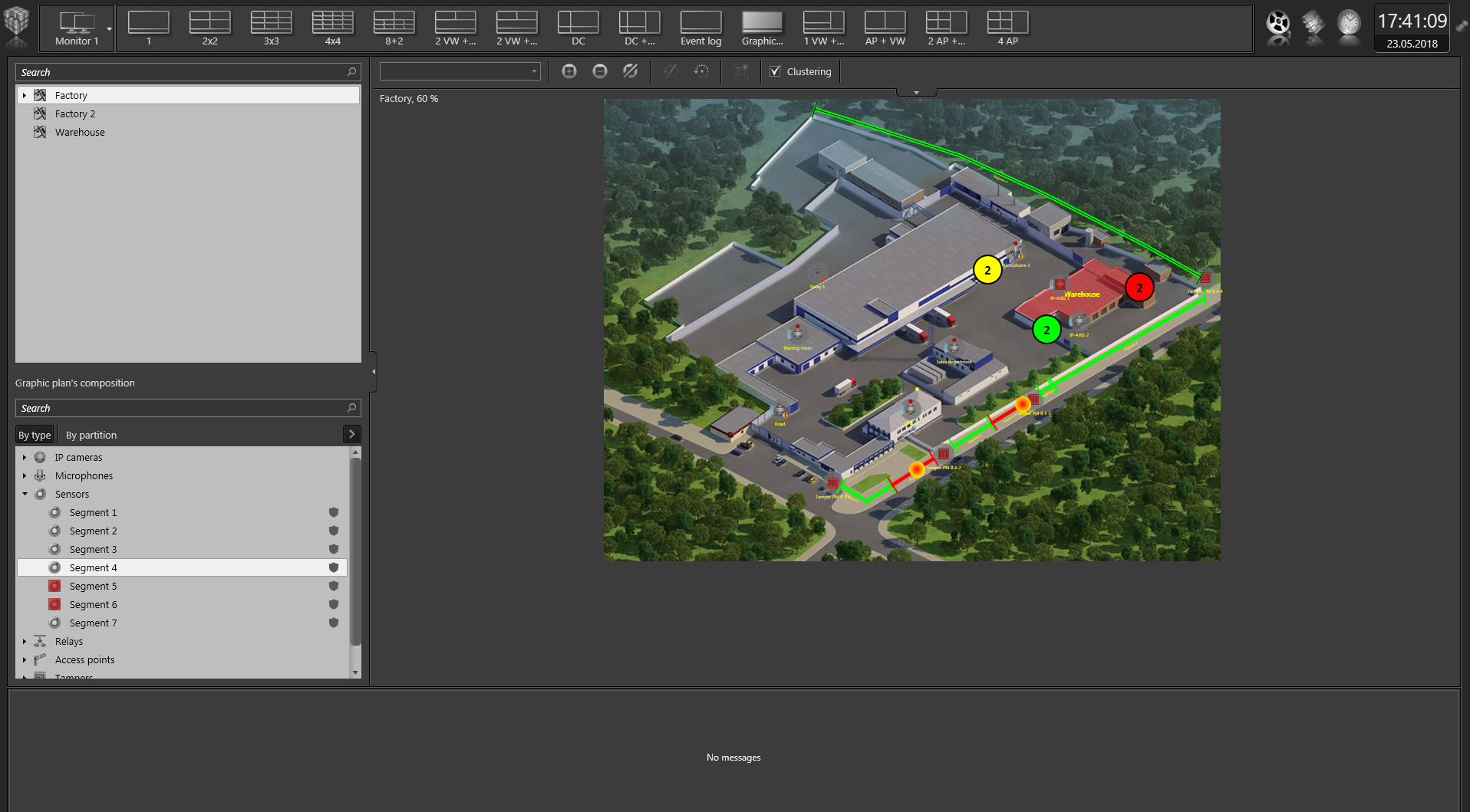 VideoNet system offers possibility to scale graphical maps and manage the whole facility. When changing scale, you can use clustering (i.e. grouping nearby devices into a single cluster) to make map still informational. When any device in cluster goes to alarm state, indication changes.
Creating multi-level maps enables to easily monitor situation at the facility, improves situational awareness, gives a detailed overview of the facility and ensures fast response to any incident. For convenient operation you can link different levels of plan to each other.