Effective incident management
VideoNet enables to create situational monitoring centers – high performance hardware and software systems that can be used to ensure safety and security at facilities of any complexity, including distributed sites.

VideoNet is a single tool for managing security subsystems
All information from video surveillance, access control, intrusion detection and fire alarm systems can be acquired by a single monitoring center and displayed on operator workstation. A whole system can be managed by single or several operators irrespectively to its complexity and equipment used. Operator provides situational monitoring and immediate response to threats.
Comprehensive facility monitoring via a single VideoNet system interface
Current events shown in video displays and facility graphical plan.
Management of actuating devices connected to the system: manual and automatic mode
Automatic detection of any potential security threat and immediate response
Facility situational monitoring
When creating a monitoring center we need to consider two factors – quantitative and qualitative.
Quantitative factor:
The large volume of homogeneous information for a long time period. As operator becomes tired, an important event can be missed.
Qualitative:
Speed and quality of decision making depends on operator actions. Effective incident investigation depends on how quickly necessary information can be found.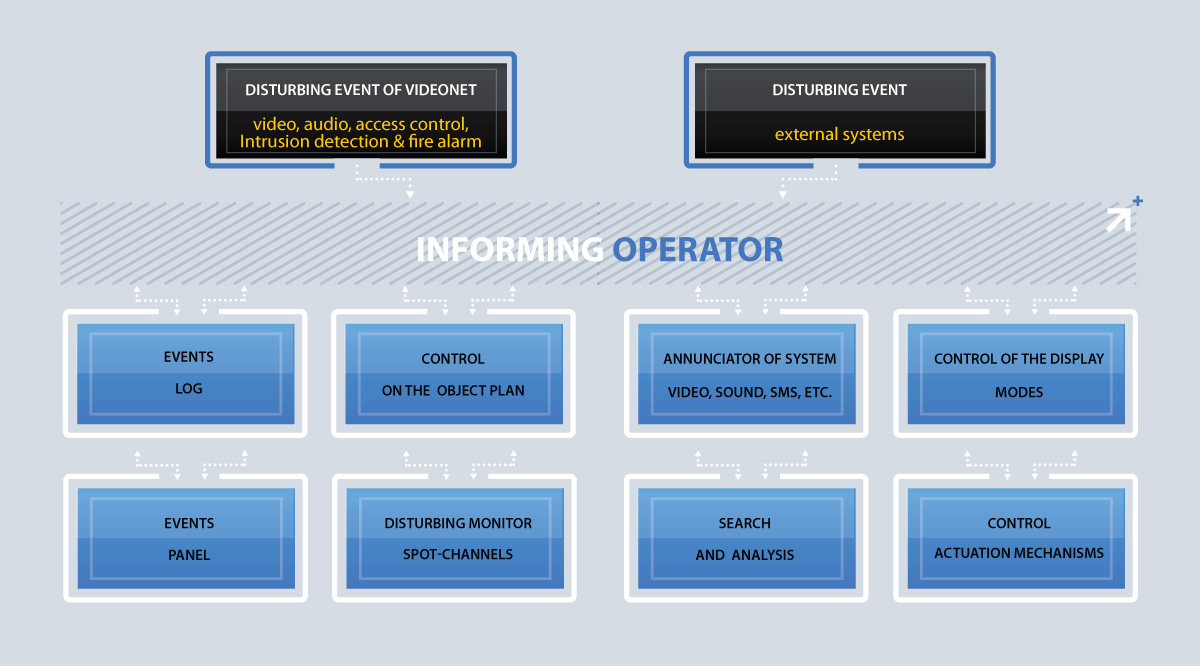 Situational monitoring and incident management
You can conveniently monitor large number of cameras. An intelligent video and audio detectors automatically reveal suspicious events, threats and alerts about important information.
Using event-based action you can adapt the system behavior to alert operators. VideoNet behavior can be configured to various events from detectors, access control systems, microphones, sensors and POS machines. Different settings can be selected, including office open time and responses to events occurred during work hours, weekends and after hours.
VideoNet system alerts about event occurred, thus attracting operator's attention and minimizing response time.
Security and safety can be improved by:
Automatic monitoring of potentially hazardous events and response actions;
Current events shown in video displays, facility graphical plan and event log;
Alerting operator about alarm event using audio alarm, alarm message, camera image on the full screen or to alarm monitor;
Highlighting alarm zone on the graphical plan;
Management of actuating devices connected to the system: manual and automatic mode
Response actions and operator alert functions can be further expanded by using 2-way voice communications, camera microphones and external microphones and loudspeakers.

Monitor modes management​
VideoNet offers various user settings for monitor modes. Operator can use pre-configured templates or individually customize workspace. Depending on security task, operator can re-locate screens of different types, including video, media player, graphical plans, event panel and log, face detection display and user commands pane.
For fast response and maximum situational awareness operator can use alarm monitor (spot monitor) where system automatically displays video images from cameras that detected most important events. VideoNet system can be configured to differentiate between important and critical events, e. g., triggered motion detector, high noise level or it can be a complex event from subsystems.
Ease of use, improved overview and automation of frequent actions
In case of large data volumes, operator workflow can be effectively streamlined by minimizing routine manual tasks. When it comes to large systems incorporating much equipment, streamlined and comfortable workflow is one of the most important criteria. To ensure that operator wastes no time on complex manipulations, interface must be as comfortable and functional as possible.
VideoNet offers comfortable and functional interface. All actions, including setting selection, management and system usage can be done using Drag&Drop to replace a complex sequence of actions by a single one-click action.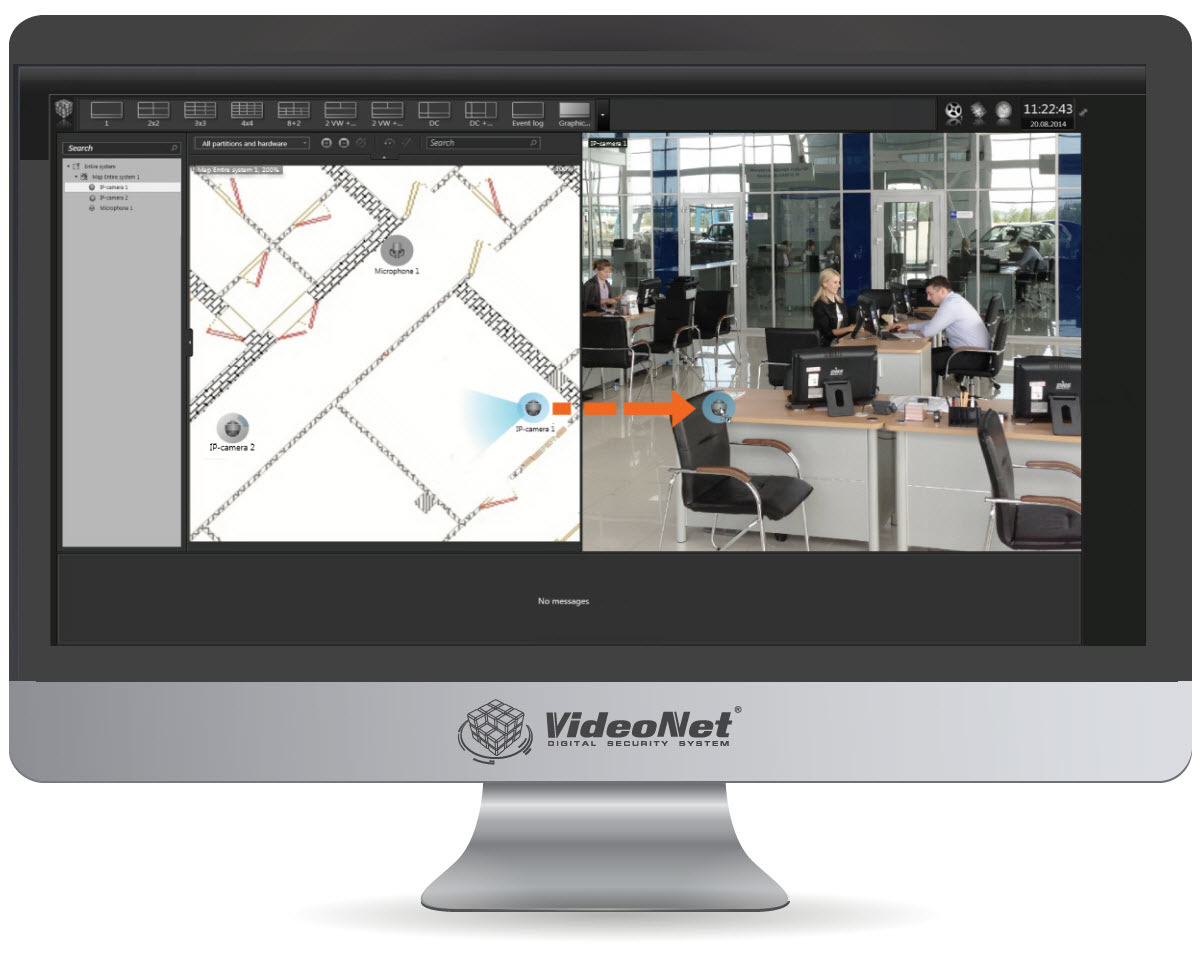 User commands can be used to automate frequent actions. You can create a button and assign action, for example, open the gate.
Graphical plans improve an overview and simplify the surveillance workflow. Simply click a camera icon on the graphical plan to display full size image.
Informed and fast decision making, investigation of incidents
Quick data retrieval capability enables to quickly investigate incidents, resolve conflicts and analyze acquired information in a detailed manner.
Operator can find the required event using various search options. You can search across any number of cameras in various combinations using different criteria: whole video frame, selected area within a frame or another predetermined parameter.
Operator can specify object size or proportions, color, speed, movement direction. For additional search options, operator can specify detector events or event types. Also, module enables to apply audio data filters, use messages from different subsystems, for example, access control or intrusion detection and fire alarm.
Effective monitoring for larger sites
Multicast mode for video surveillance ​
Multicast mode or multicast video data transmission can be used for creating monitoring stations or monitoring centers.
Multicast broadcasting allows to save bandwidth and minimize load on network devices by reducing number of video streams. No video stream duplication as each stream is delivered to a dedicated subscribers (operators). Last common switch performs allocation between subscribers.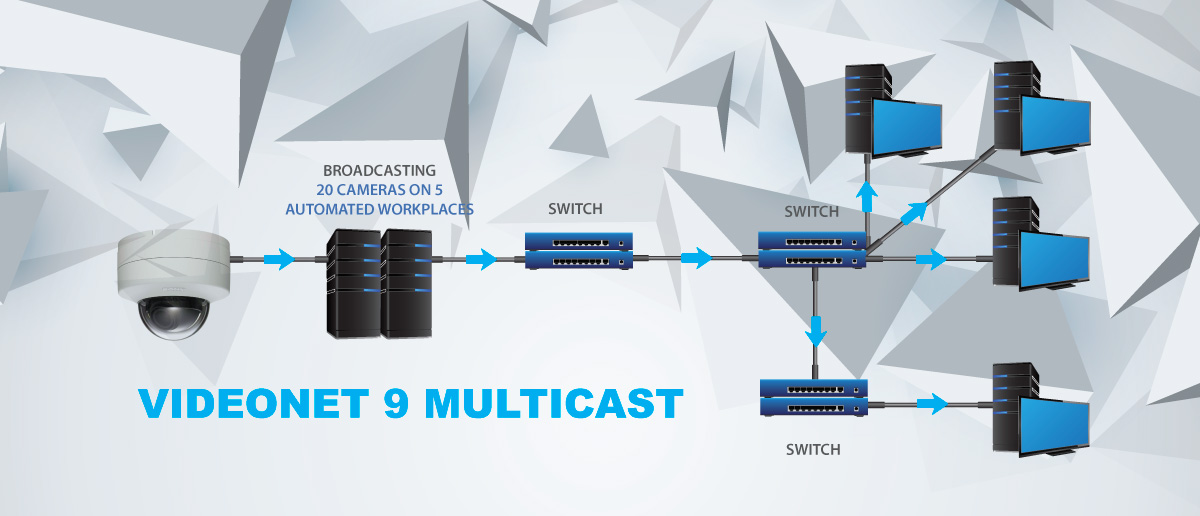 Efficiency of video surveillance and security system directly depends on degree of automation of time-consuming tasks associated with processing of a huge homogeneous data flows, quickly causing operator to become tired and inadvertent. VideoNet system allows to eliminate routine operator tasks, generates automatic responses, alerts and warns about alarm events. Combining different data sources in a single display allows operator to immediately make an informed and proper decision.
IP.DelayLess™ technology ​
During facility monitoring operator often encounters situation when camera sends alarm signal and operator needs switching to full-screen mode to understand the situation.
IP.DelayLess™ technology offered by VideoNet system allows to eliminate time delays when changing video stream resolution. As this technology prevents from requesting video stream again, there is no frozen image in the video stream. When switching between different monitor modes (e. g., between 4x4 and single monitor mode), video image is continuously available.