The new release of the VideoNet PSIM SP4 platform is the introduction of biometric technologies into the platform - face and fingerprint recognition - and the organization of the joint work of various identification methods within one security platform.
New release of VideoNet PSIM SP4 security platform
Solutions based on VideoNet PSIM combine various methods of identification - from ordinary access cards to biometrics, built-in video, audio and neural network analytics, data from video surveillance systems, ACS, FIAS, and perimeter security systems. PSIM technology allows you to use any combination of data to identify a person and report on an incident.
VideoNet uses artificial intelligence and a PSIM approach to building a unified security system at facilities. Based on VideoNet, unique solutions are created that significantly increase the security level of any site and allow solving tasks that cannot be solved by traditional means.
NEW FUNCTIONALITY:
Face recognition within VideoNet PSIM platform
Support for HIKVISION biometric fingerprint readers
Support for Gate access controllers. Connection, configuration, work on schedule
Support for VIZIT intercoms. Connection, configuration, remote key configuration
Support for Fisheye Oncam cameras
Extended abilities for automatic report creation
ONVIF Profile T Certification
Built-in Help file for finding the necessary information on setting up and working with the VideoNet platform
FACE RECOGNITION MODULE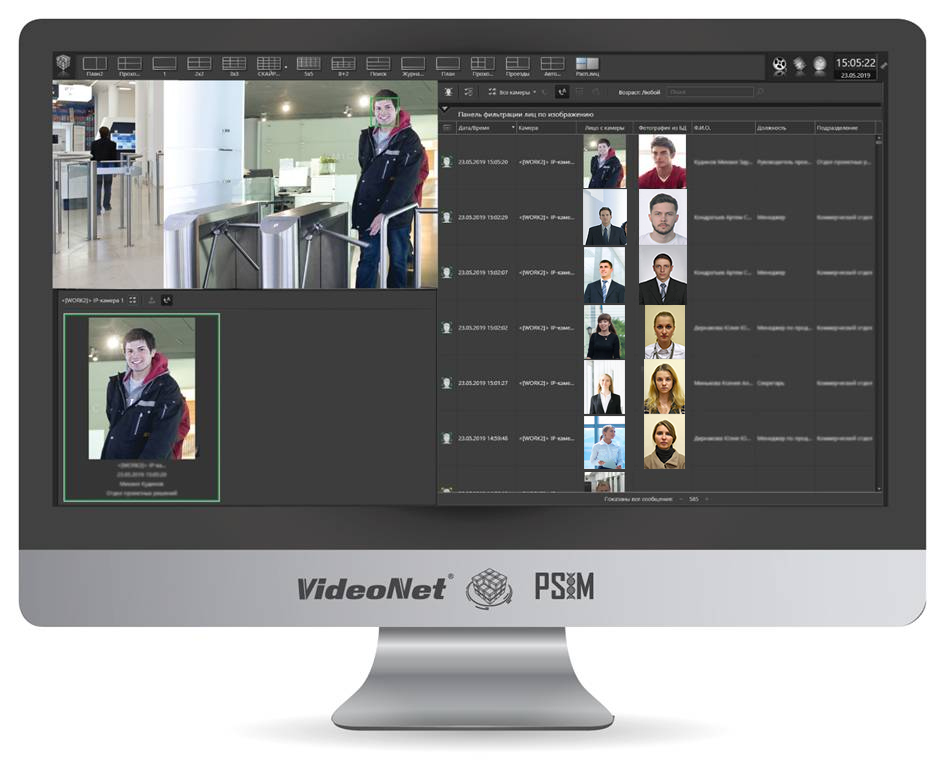 Identification of the person by the image of the face is the most demanded technology of artificial intelligence in the field of security systems. The face recognition module built into VideoNet PSIM can be used both for solving traditional tasks, such as controlling access to a site or detecting offenders, as well as for implementing unique and individual solutions thanks to the PSIM concept.
The use of face recognition module:
Identification of the person (comparison of the person with the base of employees, regular customers, criminals, etc.)
Access control to protected sites. Identity verification for granting access
Search for a person in the video archive of the video surveillance system
Algorithm of the face recognition module:
The face recognition module in VideoNet PSIM in real-time automatically selects the face image that is optimal for recognition, stores and recognizes it, comparing it with the reference images in existing databases. For example, it gives commands: a warning to the police or security services about the appearance of offenders in a protected area, sends a message to the manager about the arrival of a VIP client, gives a command to controllers of actuators when using a face as an identifier of an access control system.
Features of the face recognition module:

Automatic real-time face detection
Real-time comparing of faces from a video stream with a face database
Perform actions on the result of recognition: allow or deny access to the site, call / inform the security service, issue an alarm, other, previously regulated actions
Face search in the archive by specified parameters: photo, age, gender, time and date
Convenience and automatization of the operator allows you to:
See the result of the comparison of faces detected in real time with stored face databases
Generate new databases based on detected and recognized faces with saving of information on the place and time of appearance of the person, links to the video clip in the archive
Manually create a face database for access to the site or premises
Search for people in the archive by specified parameters: photos, age, gender, time and date, emotions
Receive notifications for face recognition results
Automatically inform the security service about the fact that a certain person has appeared in the control zone or about the result of searching for the desired face in the video archive
Form reports
Automatically count faces
Generate alarm events when face is substituted by a photo
Person classification by face image:
Using the image of a person, following characteristics of a person can be determined: gender, age, emotions (joy, sadness, etc.). The definition of human characteristics is called classification. The classification of a person by the face image is used in many areas:
Analysis of the age structure of the audience, for example of a store or a restaurant
Analysis of the gender composition of the audience
Analysis of customer service quality
Search for people in the video archive by photo, gender, age, emotions
Access control to the site by face recognition
VideoNet PSIM allows you to organize a single solution for access control systems, video surveillance systems and face recognition systems. The face recognition module in VideoNet PSIM uses the object identification by face recognition, analyzes the image and makes automatic decisions, giving commands to controllers of executive devices.
Access control system with face recognition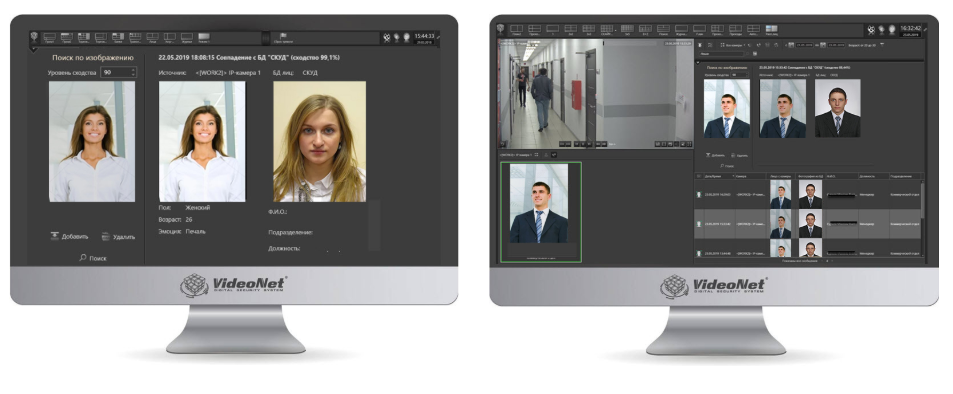 Automatically provides access to premises based on face recognition result
Ensures access to specially protected areas only to authorized persons
Uses the face recognition result as the main or additional access control identifier (card + face, only face, face + fingerprint)
Prevents unlawful intrusion of the site and helps in the search for offenders
Detects outsiders on site and generates alarms in real time
SUPPORT FOR HIKVISION BIOMETRIC READERS OF FINGERSPRINTS

In the release VideoNet PSIM SP4, Hikvision's fingerprint readers support is organized. Support for fingerprint readers in VideoNet allows you to enter or delete biometric templates directly from the VideoNet ACS environment.
VideoNet PSIM combines fingerprint identification with other identification methods, including biometric. For access to particularly important areas of the facility, multi-factor identification can be organized, for example, identification by fingerprint plus access card or recognized face.
DS-K1201EF, DS-K1201MF fingerprint readers are supported for controllers DS-K2601, DS-K2602, DS-K2604.
SUPPORT OF THE GATE ACS CONTROLLERS
VideoNet 9.1 SP4 supports Gate access controllers: Gate-8000, Gate-8000 Ethernet, Gate-4000, Gate-8000/4000-Parking
The VideoNet PSIM security platform enables you to build a solution with multi-factor identification using the controllers QUEST, GATE, HIKVISION, Bolid. VideoNet PSIM allows you to use ACS controllers from different manufacturers at one site and manage them within a single system. Select different controllers for the access group and for the premises. Restrict access to more important areas of the site using more functional controllers with double identification (card + code) or on the basis of biometric features, accompany mode, or duress opening function. And at the same time, use general reporting and schedules for all controllers, apply data titration from the ACS system to the video image to get all the evidence in one file.
SUPPORT OF THE VIZIT INTERCOMS
For interaction with VIZIT equipment, support for intercom control units BUD-485 and BUD-485-R is realized. Intercom control units are connected directly to VideoNet. In VideoNet, you can adjust the parameters of an intercom, load a schedule, and send commands to open/close a lock.
The solution is useful for organizations that serve multi-apartment residential complexes. The solution based on VideoNet allows you to add new keys to VIZIT intercoms remotely, without going to the site. VideoNet PSIM allows you to combine all the security systems of a residential complex into a single system, which includes a video surveillance system, access control to the facility, restricted access to the staircase and the floor, security and fire alarms, perimeter security, car entry to the territory by recognizing licence plates, and create a single dispatch center.
SUPPORT OF THE ONCAM FISHEYE CAMERAS
Support of the Fisheye Oncam cameras was added. This functionality allows you to convert a spherical image from a Fisheye camera or from a camera with a panoramic lens into a flat image. VideoNet removes spherical distortion, and the camera image on the operator's workplace takes the form of panorama wide, panorama double and panorama narrow.
Oncam has a reputation as one of the most innovative companies in today's IP video surveillance market. The company specializes in 360-degree and panoramic intellectual IP video surveillance and uses its own award-winning technologies.
ACQUIRED ONVIF PROFILE T CERTIFICATE
Starting with VideoNet 9.1 SP4 ONVIF Profile T is officially supported in the VideoNet PSIM security platform. ONVIF Profile T provides more functions than Profile S, and has enhanced video streaming and advanced features for streaming metadata and analytics.
Profile T supports the H.265 video compression codec, which has a higher compression ratio for video from cameras. Using the H.265 codec reduces the size requirements for disk arrays for storing high-resolution videos, and also reduces the requirements for communication channels and leads to a decrease in the total cost of owning a video surveillance system. Profile T standardizes analytics, streaming metadata, working with bidirectional audio and other important functions.
FREE UPGRADE TO VIDEONET CORPORATE EDITION
As part of implementing a strategy aimed at increasing the level of information security at our customers' facilities, we have implemented a set of measures to protect access to the system, protect information from being changed, deleted or stolen. This functionality is implemented in the corporate version of the security platform VideoNet Corporate Edition, which meets the increased requirements for information security.
Advantages of VideoNet Corporate Edition:
Specialized data storage format
Additional protection of access to the archive
Additional system access protection
Multi-level system access rights
Free upgrade to VideoNet Corporate Edition for large customers
We care about data security at our customers' facilities, so for large systems from 25 servers and clients in the system, we update the current version of VideoNet PSIM to the corporate version for free. On May 15, 2019, a FREE UPGRADE PROGRAM for the corporate version of the VideoNet PSIM platform was launched for our users. This offer is valid until December 31, 2019. Users of the VideoNet platform who have a total number of servers and clients in the system more than 25 can use the free upgrade.
VideoNet Corporate Edition has an increased level of cyber security. The platform is protected from cyber intrusion and damage by third parties. Each VideoNet Corporate Edition copy is personalized and produced individually for each VideoNet PSIM security customer.
VideoNet Corporate Edition licenses are licenses without restrictions on the number of servers and clients. To install the VideoNet 9.1 SP4 version in the system with the number of servers and clients of 25 and more, you need to make a free upgrade to the corporate version of the VideoNet PSIM platform. Starting with VideoNet 9.1 SP4, VideoNet Pro licenses are limited to 24 servers and clients in the VideoNet system.
Upgrade to the corporate version is necessary if:
Your system contains a total of more than 25 servers and clients of the VideoNet system
Solution with enhanced privacy protection is required
Additional security system access is required