Centralized monitoring and diagnosis tool offered by VideoNet system
Diagnotex is a software product for centralized monitoring of VideoNet status. It reveals failures and allows to conveniently maintain and ensure continuous operation of sites with a large number of geographically distributed video stations and remote operator workstations.
Diagnotex – monitoring and diagnosis system
Simultaneous monitoring of a large number of video stations on a single operator workstation;
Performance monitoring of video stations and nodes of VideoNet integrated network;
Immediate notification and alerts for operator about revealed failures or their symptoms.
Also, Diagnotex tracks actions of operator responsible for VideoNet system monitoring and records time needed for operator to respond to alarm message.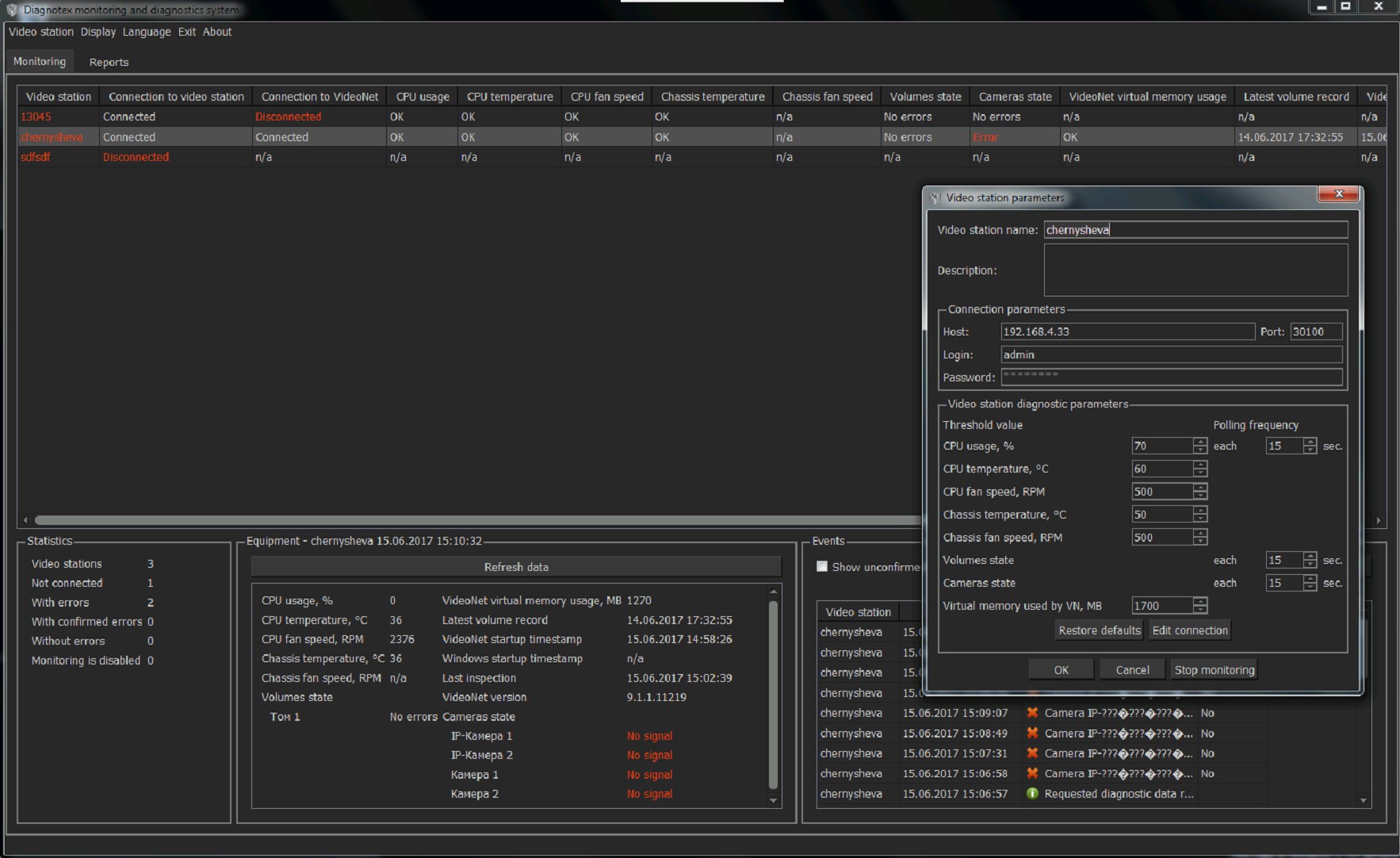 VideoNet network online monitoring offers the following advantages:
Early warning and failure prediction system;
Monitoring of hardware performance, component failures or invalid parameter changes (out of range);
Monitoring of archived data integrity, signal availability, excessive load and invalid system logout;
Immediate notification and operator's action acknowledgement;
Mean time between failure reports for VideoNet network nodes;
Monitoring of operator response actions to alarm events.
Monitoring environment supports two operation modes:
Real time monitoring mode;
Report mode.
Report system can monitor the system performance in real time or for specified period. The system delivers a detailed report for each connected video station and facilitates in diagnosis and maintenance of the whole system.
Diagnotex monitoring and diagnosis system is available in two versions: component of VideoNet Defender complete solution or stand-alone software product. It can be used in security systems based on VideoNet software.
When using Diagnotex as a stand-alone software product, it can only monitor VideoNet system performance.
When used as part of VideoNet Defender, in addition to VideoNet performance monitoring system can monitor physical parameters of the video station: CPU temperature, CPU cooler speed, internal temperature, chassis fan speed.
Monitoring service can track parameters of each video station. If parameter value becomes above/below a specified value, the system detects failure event and records all necessary data to event log.
Video station hardware parameters
Status of communication line with PC
CPU load
CPU temperature
CPU cooler speed
Internal PC temperature
Chassis fan speed
VideoNet parameters
Status of communication line with VideoNet
Volume status
Camera status
VideoNet virtual memory used
Recent record in archive
VideoNet start time
Windows start time
Advanced parameters
User can change value of any parameter or use default values. When parameter value exceeds the specified value, monitoring system generate alarm message. Operator must acknowledge the message. Message acknowledgment means that operator saw the message and takes appropriate action to eliminate failure.
Available report types:
All video stations summary report – parameter values of all video station are summed
Detailed report – individual parameters of each video station
Report includes:
Time period for which report was created
Total number of video station in monitoring system
Sum of parameter values of all video stations assigned to monitoring system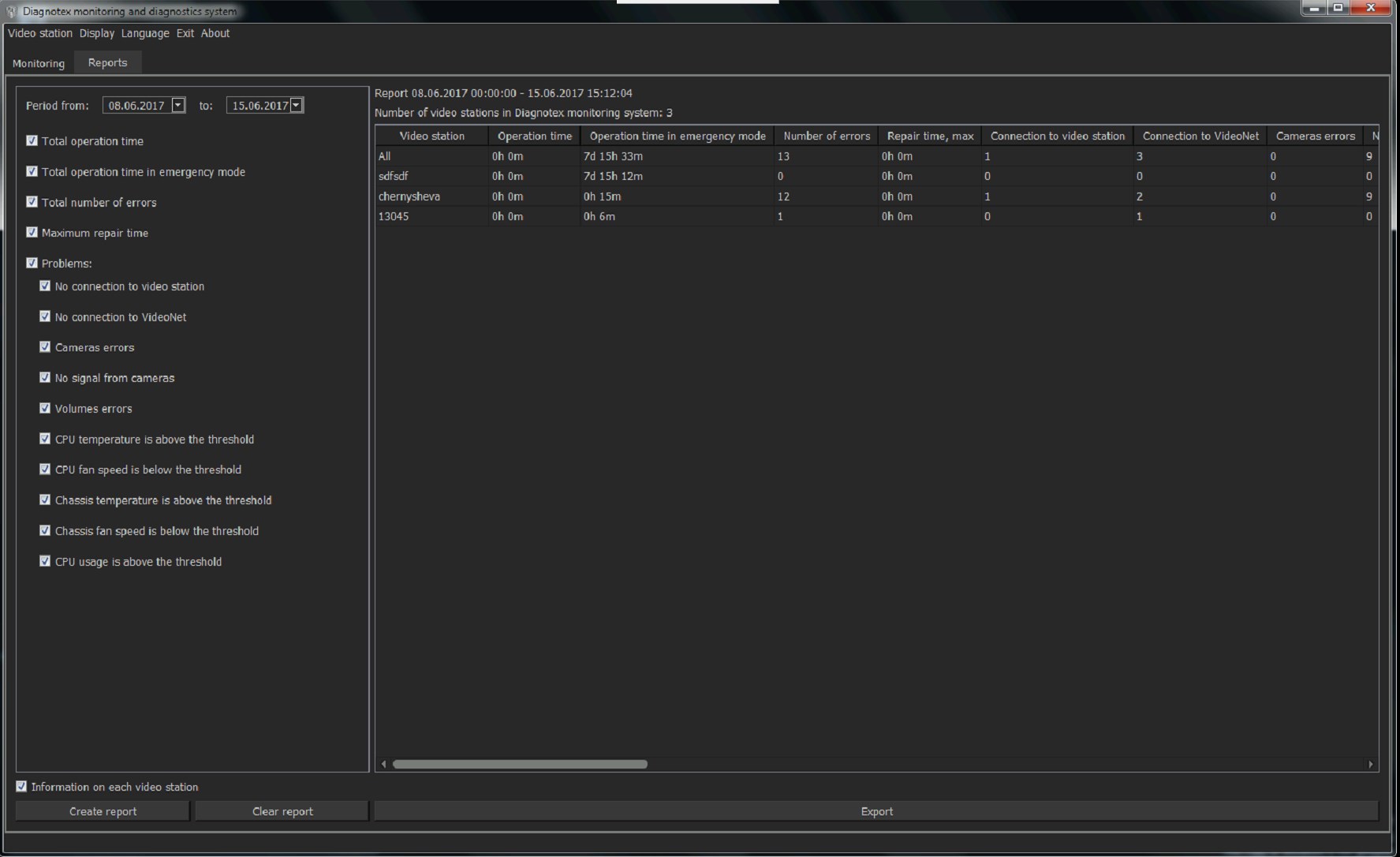 Detailed report also includes information about every parameter of video station.
Diagnotex offers two-level security protection: first level – authorization needed to launch monitoring center, second level – user name/password needed for initial connection to remote node of the VideoNet network. In such a manner your Daignotex network can be securely protected from unauthorized access or attempts to change configuration parameters.